Michigan workers comp lawyer explains attorney fees and why it costs you nothing to hire a great attorney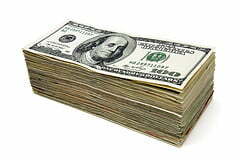 An experienced workers compensation lawyer will not charge you a fee to evaluate your workers comp case.  Free telephone advice and office consultations are always available.  An experienced workers comp lawyer will also be happy to offer free advice about your workers comp issues.
You only owe an attorney fee if you recover workers comp benefits
Employers and insurance companies pay big hourly rates for their workers comp lawyers. The law recognizes that injured workers cannot afford to pay an hourly rate and allows them to hire a workers comp lawyer on contingency basis.  This means that no fee will be charged unless you recover workers comp benefits and only after you have been paid.
Don't let the fear of cost deprive you of hiring a great workers comp lawyer
The law limits the amount a workers comp lawyer can charge.  The attorney fee is only 10 percent if workers comp benefits are currently being paid and the case is settled.  If workers compensation benefits are not being paid, the attorney fee is 15 percent of the first $25,000 and 10 percent on the remainder of the settlement.  It is possible for a workers comp lawyer to charge 30 percent of your back pay if the case goes to trial and you win.
If you do not recover workers comp benefits, there is no fee
Do not wait until you have a problem to seek the advice of an experienced workers comp lawyer.  There is no fee to evaluate your workers comp case.  If you are unsuccessful with your workers comp case, you will owe  nothing.
An experienced workers comp lawyer will also advance the costs associated with your workers comp case.  It is often necessary to take the deposition of your doctor and to hire a vocational expert to testify.  These costs can run into the thousands of dollars.
Your workers comp benefits cannot be denied because you spoke with or hired a workers comp attorney
Don't wait until your workers comp benefits have been stopped to get help.  Hire an experienced workers comp attorney who can monitor your claim and advise you on strategy before a problem even occurs.
Your employer or the insurance carrier does not even have to know that you have spoken with or hired a workers comp attorney, and all communication is private and confidential.
Call (855) 221-2667 for a free consultation today. We fight to make sure that all your legal rights are protected.
– Alex Berman is the founder of the law firm. He's been representing injured and disabled workers exclusively for more than 30 years. Alex has helped countless people obtain workers compensation benefits and never charges a fee to evaluate your case.
Related information:
Michigan workers compensation lawyers – client testimonials
Have your workers comp benefits been denied or terminated?
– Photo courtesy of Creative Commons, by Andrew Magill.
01/01/2011