Michigan workers compensation attorney is interviewed about potential changes to the law and how this will affect injured workers.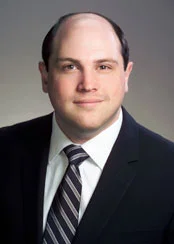 Reproduced below is an interview with Lori T. Williams, Esq., owner of Your Legal Resource, PLLC. She connects individuals in need of legal services with honest, trustworthy, and experienced attorneys across the spectrum of legal services.
October 11, 2011
By:  Lori T. Williams, Esq.
I interviewed Workers' Compensation attorney, Jeffrey Kaufman, about recent changes in this area of law. Jeff was named as a "Rising Star" in the 2011 Issue of  Michigan Super Lawyers.  He is a second generation workers' compensation lawyer, who began practicing law in 2004.    Jeff's father, Stephen I. Kaufman, has practiced workers' compensation law for over 35 years.  Jeff saw from an early age how this type of law can make a big difference for an injured or disabled worker.
"Having grown up in the workers' compensation system watching my dad practice, and practicing this area of law myself, I've seen it become more difficult for injured workers to collect workers' compensation benefits", says Jeffrey Kaufman.   The Michigan Supreme Court released several opinions the last few years, which have impacted the rights of injured workers. It is much more difficult to collect benefits for an aggravation of a preexisting condition or for a psychiatric disability under current law.
The most significant opinion was rendered in 2008 in the case of  Stokes v Daimler Chrysler Corporation.  According to Kaufman, "the Court was attempting to clarify the burden of proof but ended up making it much harder to prove disability.  A plaintiff must now somehow define the universe of jobs that he or she is qualified and trained to perform post injury. The plaintiff must then show that he or she cannot earn maximum wages even in work never performed before. This has created more litigation and expense for both sides as vocational experts must be hired in almost every case to do a transferable skills analysis."
Additionally, the Michigan legislature has recently introduced workers' compensation reform. House Bill No. 5002 attempts to codify all the recent Michigan Supreme Court decisions.  Kaufman states, "The Bill also goes much further by creating a new category of  'partially disabled worker'.  An employer or insurance company will be able to reduce the workers' compensation rate by a hypothetical wage earning capacity.  The current law only allows for a reduction of benefits for wages that are actually earned in other employment."
Kaufman believes that "if this Bill becomes law, it will remove the major incentive that an employer has to bring an injured worker back to work. The employer will not have to worry about accommodating restrictions or helping the injured worker get retrained. The workers' compensation rate will simply be reduced based upon a job that may or may not exist. This will be devastating for injured workers and their families."
Kaufman has already faced employers who argue that benefits should be reduced because a person can hypothetically work somewhere else. "It does not matter to these employers if the job is truly available, or if the worker will even be hired.  The original intent of  workers' compensation law was to give employers an incentive to help their injured workers get back to gainful employment. The effect now will be to cut the workers' compensation rate in nearly every case."
"The number of workers' compensation cases will skyrocket!", says Kaufman. "The rate will be a question of fact in almost every case. Some low wage earners will end up getting nothing."  More employees need to be educated about their rights to benefits under workers' compensation, according to Kaufman.  "Michigan Law provides for unlimited access to reasonable and necessary medical care. Wage loss benefits are also available if a person is disabled and cannot work.  However, pain and suffering is not available. Nobody gets rich from workers' compensation."
Kaufman advises injured workers to contact his firm or another experienced workers compensation lawyer as soon as an injury occurs, to preserve the workers rights.  "The first few weeks after an injury can be critical to the success or failure of a workers' compensation case.  A person must give proper notice to their employer and make a claim for benefits. They must also seek appropriate medical care and document their injury. A good workers' compensation lawyer can help a person at this stage of the case. All advice is confidential and the employer does not even need to know that a lawyer has been hired.  A person should never wait until their benefits are stopped to contact an attorney", according to Kaufman.
An experienced workers' compensation lawyer will not charge the client a fee to meet or discuss a case. Free telephone and office visits are available.  It is customary for Workers Compensation attorneys to charge a contingent fee, which is a percentage of the recovery as allowed by statute.  This fee is collected by the attorney only if he or she recovers additional workers' compensation benefits for the client.
To speak with an experienced workers comp lawyer, call (855) 221-2667 for a free consultation. We will fight to make sure that your workers comp rights are protected.
– Alex Berman is the founder of Michigan Workers Comp Lawyers. He's been representing injured and disabled workers exclusively for more than 35 years.  Alex has helped countless people obtain workers compensation benefits and never charges a fee to evaluate a case.
Related information:
Michigan Work Comp Lawyers – Client Testimonials
Contact our Michigan workers comp lawyers
10/01/2011