Michigan workers comp lawyer explains how you can negotiate a discount on medical bills if your employer or its insurance company refuses to pay.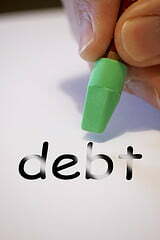 Sometimes we get calls from individuals who have suffered only a minor injury at work. Many of these claims involve no missed time and small amounts for unpaid medical bills.
For whatever reason, the employer or its insurance company does not want to pay even a small amount under workers comp. This is a problem as medical bills go into collections and the injured worker ends up footing the bill.
It is difficult to find a lawyer who will handle these cases because of the small amount at stake. This is because the fee is based upon how much is recovered. Hiring a lawyer on an hourly rate is not an option as it could end up costing more than just paying the medical bill.
Here are some tips on how you can resolve unpaid medical bills on your own. Remember that every situation is different and it is important to contact an experienced lawyer before you take any action.
Employer sponsored health insurance
Workers comp is supposed to pay all reasonable and necessary medical care related to your work injury. However, many employers refuse to make claims because they are afraid of increased insurance premiums.
Unpaid medical bills can usually be submitted through your own health insurance. You might have a deductible or co-pay but this might be your best option to ensure payment. Do not wait until it is too late to try this option. Many health insurance companies have time limits.
Telephone mediation
The Agency has a procedure for informal mediation. This is done by telephone and your employer will be asked to participate. The state mediator may be able to convince your employer to do the right thing and pay the medical bills.
If your situation cannot be resolved with informal mediation, you can ask for it to be assigned to a magistrate. We strongly recommend that you hire a lawyer rather than trying to do this yourself. You need someone on your side because the law is stacked against you.
Negotiation
Medical treatment under workers comp is subject to cost containment rules. This is a built in discount that employers and insurance companies receive. You can ask that the medical bills be recalculated using this discount. Many providers will be happy to receive payment at this lower amount.
If your medical bills go into collections, you can often negotiate to pay a smaller amount. You just have to ask. Make sure that you get confirmation of the lower amount in writing.
To speak with one of our Michigan workers comp lawyers, call (855) 221-2667 for a free consultation. We never charge a fee to discuss your potential case.
– Alex Berman is the founder of Michigan Workers Comp Lawyers. He's been representing injured and disabled workers exclusively for more than 35 years. Alex has helped countless people obtain workers comp benefits and never charges a fee to evaluate a case.
Related information:
WCA – Alternate Dispute Resolution Policy
– Photo courtesy of Creative Commons, by Alan Cleaver.
10/01/2012