Medical advances give people hope for better treatments under workers' compensation.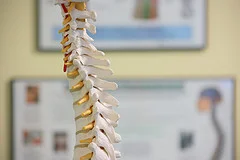 I saw a fascinating article on Engadget about a neurosurgeon who successfully replaced two vertebrae with 3D-printed replicas. The 15 hour surgery prevented a man with cancer from becoming paralyzed.
Spinal injuries are some of the most difficult under workers' compensation. Many of our clients undergo a procedure known as a spinal fusion. This is when metal plates, screws, and rods are used to hold vertebrae together, so they can heal into one solid unit. Additional stress on the vertebrae above and below the fused portion can result in degeneration causing more problems.
It is common for our clients to have permanent restrictions and need lifetime medical care after a spinal fusion. We hope medical advances will give our clients hope that better options are indeed coming.
Experimental Medicine
All reasonable and necessary medical treatment is covered under workers' compensation in Michigan. However, procedures that are considered experimental are frequently disputed.
Advancing medical technology will give people more options after spinal injury. This includes 3D-printed vertebrae and even brain controlled devices that can help relieve the effects of paralysis.
We expect to see even more people look for alternatives to spinal fusion as these medical advances move forward.
Michigan Workers Comp Lawyers never charges a fee to evaluate a potential case. Our law firm has represented injured and disabled workers exclusively for more than 35 years. Call (855) 221-2667 for a free consultation today.
Related information:
Possible new treatment for herniated disc
Photo courtesy of Creative Commons, by Michael Dorausch