Warning about insurance company tactics and the petition to stop weekly benefits.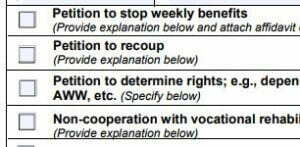 Employees hurt on-the-job in Michigan are entitled to workers' compensation benefits. This includes lost wages, medical treatment, and vocational rehabilitation.
The amount paid for wage loss should equal 80% of the after-tax average weekly wage. Weekly payments continue for the length of disability. Medical treatment should also be covered 100% without any co-pays or deductibles.
Insurance companies regularly dispute payment of workers' compensation benefits. Employees are told their medical condition is not work-related or they do not have a current disability.
The burden is on the employee to file an Application for Mediation or Hearing – Form A and challenge the insurance company dispute. A magistrate will conduct a trial and determine whether additional workers' compensation benefits should be paid.
An open award is when the magistrate orders continuing payment of wage loss and medical. Benefits cannot be stopped without further permission. Insurance companies hate being stuck with an open award and losing control. Employees should expect their benefits to be challenged again and again in the coming months or years.
Workers' compensation benefits paid under an open award can only be terminated by filing an Application for Mediation or Hearing – Form C. This is commonly known as a petition to stop weekly benefits. Additional medical and vocational evidence may be submitted to the magistrate.
Wage loss benefits can be reduced automatically when dependency changes, coordination becomes appropriate, or the employee reaches age 65. Watch out for insurance companies who constantly look to reduce or stop benefits. It is important to speak with an experienced lawyer if this is occurring.
Michigan Workers Comp Lawyers never charges a fee to evaluate a potential case. Our law firm has represented injured and disabled workers exclusively for more than 35 years. Call (844) 316-8033 for a free consultation today.
Related information:
Workers' Comp 101: Know what to expect when your case is filed