Employees who are hurt in an automobile crash in Michigan are covered under both workers' compensation insurance and no-fault auto insurance.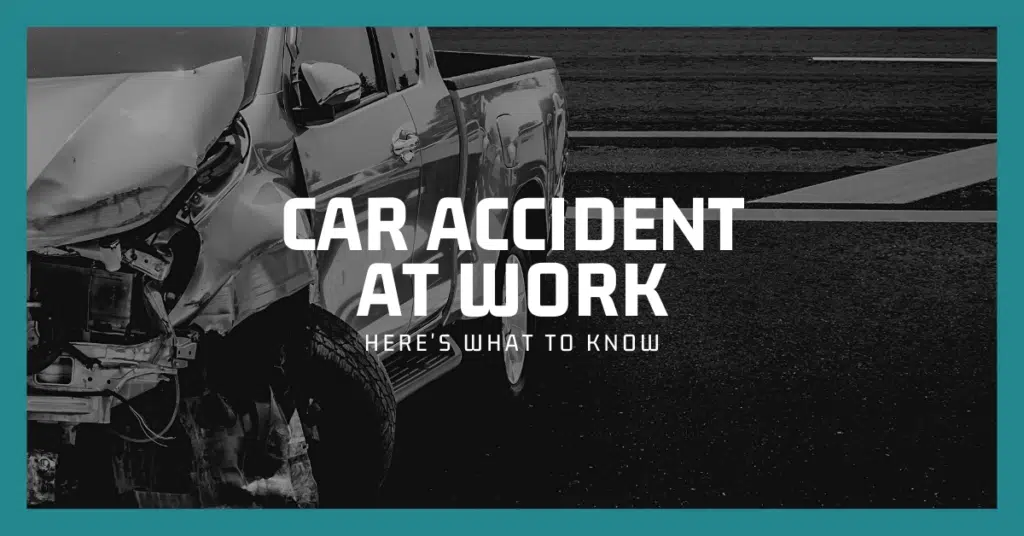 We have represented many employees who were hurt from automobile crash on the job. They are confused about what benefits are available and with whom to make a claim. It does not get any easier when multiple insurance companies show up and point fingers at each other. Here is some information about a car accident at work in Michigan and how workers' compensation insurance and no-fault auto insurance are handled in this situation. Please remember that each situation is unique, and it is a good idea to speak with an attorney to protect legal rights.
Workers' compensation insurance is primary for a car accident at work
Workers' comp law protects employees hurt on-the-job and that includes being injured in a car accident at work in Michigan. It covers medical and lost wages. There is no requirement to prove fault and coverage begins immediately. Employees who are driving to or from work may also be covered under specific circumstances.
Workers' compensation insurance pays for all medical treatment without any copayments or deductibles being owed. Employees can select their own doctor after 28 days from the start of medical care. Mileage to and from doctor appointments should be reimbursed. Family members can also get paid for providing attendant care to help a disabled employee with activities of daily life. Home and vehicle modifications are also covered.
Employees who are unable to work can make a claim for lost wages. The amount paid should equal 80% of their after-tax average weekly wage. A good rule of thumb is that 60% of an employee's gross pay should be paid.
Family members of an employee who died in an automobile crash can collect survivors' benefits. Spouses and children who are totally dependent can collect up to 500 weeks of lost wages.
No-fault auto insurance is secondary for a car accident at work
An employee who is involved in a car accident at work in Michigan can also make a claim for no-fault auto insurance benefits. These benefits would be considered "secondary" to workers' compensation insurance but can still provide additional money.
If workers' compensation insurance disputes medical treatment, then no-fault auto insurance should pay. It is important to make a timely claim, so all legal rights are protected.
No-fault auto insurance also pays 85% for lost wages up to 3 years. It should make up some of difference between what workers' compensation insurance pays and an employee's full salary. It also covers other items like replacement services of $20 per day.
Third-party lawsuit
Employees who are in a car accident at work can also file a lawsuit against the negligent third-party. This is the person who is responsible for causing the motor vehicle accident. Additional damages such as pain and suffering are available.
Any amount recovered from the at-fault driver, after deducting a proportionate share of costs and attorney fees, will first reimburse the employer or its insurance company for workers' compensation benefits paid. The balance of the recovery will then be paid to the employee and treated as an advance payment of any future workers' compensation benefits. Workers' compensation insurance will not have a lien if it does not pay benefits that exceed the amount and duration owed under no-fault auto insurance.
We recommend speaking with an experienced workers' compensation lawyer whenever an employee is in an automobile crash while on the job. This will ensure legal rights are protected and time limits are not missed.
Michigan Workers Comp Lawyers never charges a fee to evaluate a potential case. Our law firm has represented injured and disabled workers exclusively for more than 35 years. Call (844) 316-8033 for a free consultation today.
Related information:
Workers' Comp Claim Denied: Now What Do I Do?