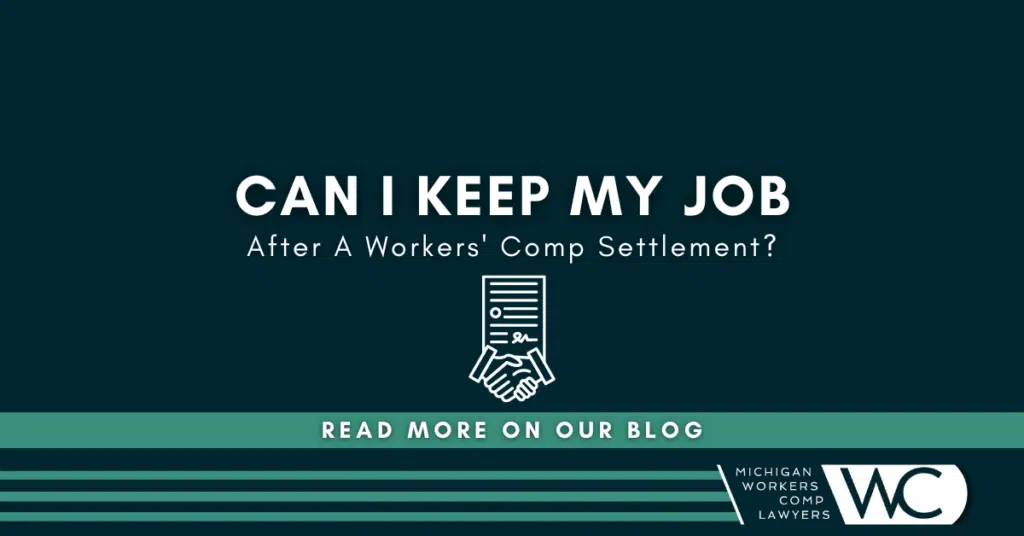 What employees need to understand when they start thinking about resolving a work injury claim for a Michigan workers' comp settlement and keeping their job after.
We take all kinds of workers' comp cases for people hurt on-the-job. This includes claims for medical bills only, closed periods, and permanent disability. Resolving these matters short of a trial is always a preferred approach. A frequent question that comes up: Can I keep my job after a workers' comp settlement in Michigan? The answer depends upon if the matter is resolved through a voluntary payment or a redemption.
Can I keep my job after a workers' comp settlement in Michigan?
In Michigan, you can't keep your job after a workers' comp settlement if your case/claim is redeemed. A redemption is where past and future benefits are resolved for a lump sum cash settlement with a job resignation.
If your case/claim is resolved claim through voluntary payment of the employer/carrier, then this means the employer/carrier pays an amount to resolve past-due benefits and an employee keeps their job.
Voluntary payment of past-due benefits
Employees who find their work injury benefits disputed can file a case. A voluntary payment can be negotiated where money is paid for past medical bills and/or lost wages. It is expected that less than 100% will be paid.
A person does not give up his or her job with a voluntary payment and can seek additional workers' compensation benefits in the future. Attorney fees can be up to 30% when a voluntary payment is received.
Redemption of all liability
Employees can also settle their workers' comp claims for a lump sum cash payment. This is called a redemption and it typically pays more than a voluntary payment. It covers not just past due benefits but also future medical and wage loss. Attorney fees can be as low as 15% when a settlement is received.
In Michigan, it is likely that a person won't be able to keep their job and will need to give it up as part of any workers' comp settlement. However, sometimes the carrier is off the risk and the employer wants to keep a person working.
Settlement is an attractive option for many people. It allows them freedom to finish medical treatment and vocational rehabilitation on their own terms. Money paid can be used for any purpose including medical treatment, job search activities, paying of debt, and retirement. In Michigan, though a workers' comp settlement is an attractive option, it is likely that the employee won't be able to keep their job if they go with that option.
Don't leave money on the table!
We do not recommend negotiating a voluntary payment or redemption without speaking to an attorney first. There are many pitfalls that can occur when a person is not represented. For example, a person who redeems their workers' comp claim could be giving up their right to medical treatment under other insurance plans. There may also be significant overpayments that occur, and this can eat into what is actually paid for settlement. Attorneys get people more money and make sure problems do not happen in the future.
Need help? Call our attorneys now
If you suffered an injury at work in Michigan and have questions about a workers' comp settlement and if you are able to keep your job after you settle call now or fill out our contact form for a free consultation. There is absolutely no cost or obligation. Our attorneys are here for you.
Our attorneys have been exclusively helping injured workers in Michigan for more than 35 years. Our attorneys can help you better understand Michigan workers' comp laws and what happens after someone has been hurt on the job. To see what our own clients have to say about the caring, compassion, and communication they received from us, you can read in their own words about their experience here on our testimonials page from clients we have helped.
Michigan Workers Comp Lawyers never charges a fee to evaluate a potential case. Our law firm has represented injured and disabled workers exclusively for more than 35 years. Call (844) 316-8033 for a free consultation today.
Related information: