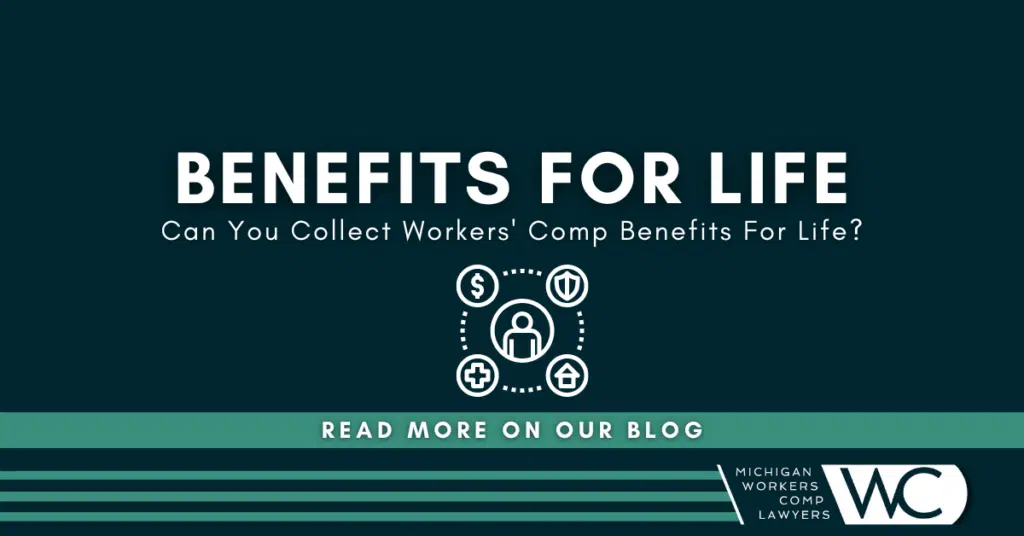 Michigan workers' comp lawyer explains available benefits for employees who are hurt on-the-job.
Workers' comp is a safety net for employees who get hurt on-the-job. It covers unlimited medical treatment and a percentage of lost wages. Many of the people who contact our office want to know: Can you collect workers' comp for life in Michigan? The answer is "yes," but there are limitations that impact what is paid.
Employees who cannot work should get wage loss benefits. The amount paid is supposed to equal 80% of their after-tax average weekly wage. This is based upon the highest 39 weeks out of 52 weeks before getting hurt. Overtime, discontinued fringe benefits, and even second jobs that cannot be performed anymore should be included in the calculation.
In Michigan you can collect workers' comp medical benefits for life. According to the law, all reasonable and necessary medical treatment should be paid for a person's lifetime. This includes items like doctor visits, medical procedures, durable medical equipment, mileage to and from appointments, attendant care to help with activities of daily living, and home modifications.
Can you collect Michigan workers' comp for life?
In Michigan, you can collect workers' comp benefits for life because they are considered a "lifetime" benefit. However, there are certain limitations that can effectively reduce or stop payments. Turning 65, qualifying for Social Security, or collecting a pension can reduce wage loss benefits.
You can collect workers' comp wage loss benefits for life but they will be reduced 5% each year at age 65. This offset continues until it reaches a maximum of 50% at age 75. Wage loss benefits should be paid as long as a person remains looking for a job within restrictions.
Individuals can also apply for Social Security retirement benefits starting at age 62. Workers' comp is allowed to reduce payments based upon 50% of what SSA pays monthly for retirement benefits. Insurance companies are not allowed to double dip and reduce based upon both age and receipt of Social Security.
Employees who voluntarily retire and take themselves out of the workforce give up wage loss benefits. This occurs when someone takes a retirement pension. Money received can also sometimes be used as an offset against wage loss benefits.
Though in Michigan you can collect workers' comp benefits for life, we recommend trying to settle a claim before any reduction or offset occurs. Insurance companies pay money based upon their exposure and waiting too long can result in less being paid out.
Can you collect medical benefits under workers' comp for life in Michigan?
In Michigan, medical treatment under workers' comp is considered a lifetime benefit. However, it can be stopped if a person is being treated strictly for a degenerative condition. This usually occurs when a person has been found to be at maximum medical improvement (MMI) for the workplace injury.
Watch out for insurance companies who use so-called "independent" medical examinations to find a person has reached MMI or is just suffering from a degenerative condition. These often result in biased medical reports that are used to cancel medical treatment under workers' comp. It is important to challenge any disputed claim based upon an IME.
Need help with your claim? Call our attorneys now!
If you are injured on the job in Michigan and need help filing a workers' comp claim and are wondering if you can collect benefits for life, call now or fill out our contact form for a free consultation. There is absolutely no cost or obligation. Our attorneys are here for you.
Our attorneys have been exclusively helping injured workers in Michigan for more than 35 years. Our attorneys can help you better understand Michigan work injury laws and what happens after someone has been hurt on the job. To see what our own clients have to say about the caring, compassion, and communication they received from us, you can read in their own words about their experience here on our testimonials page from clients we have helped.
Michigan Workers Comp Lawyers never charges a fee to evaluate a potential case. Our law firm has represented injured and disabled workers exclusively for more than 35 years. Call (844) 316-8033 for a free consultation today.
Related information: