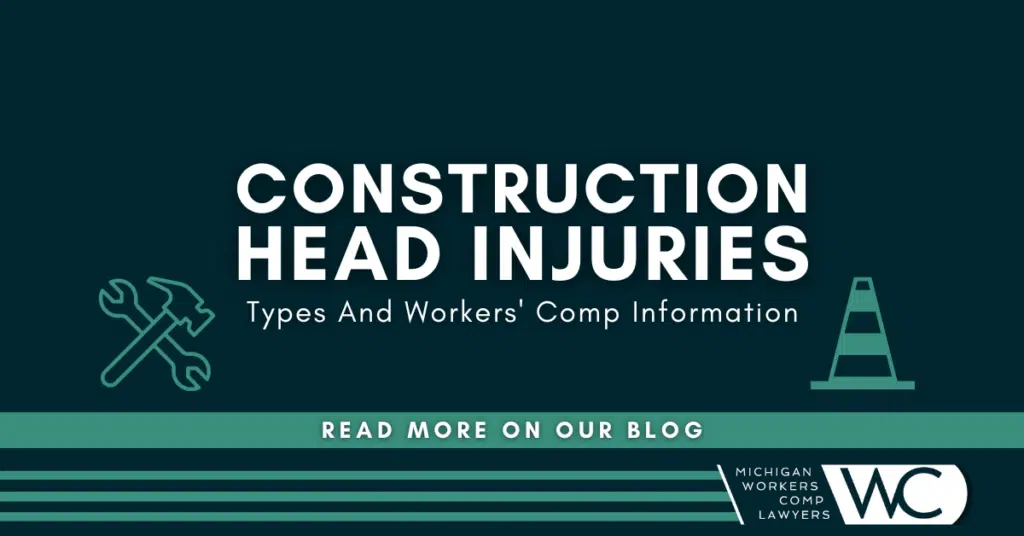 Michigan construction accident lawyer breaks down the common types of head injuries suffered on job sites and how to protect your legal rights.
We have represented many clients who suffer from construction head injuries. These occur from being struck by an item, falling off a ladder/scaffold, or just hitting your head on something. Many workplace accidents could have been avoided with better training and safety protocols. But what happens if the worst occurs, and someone suffers from a traumatic brain injury (TBI)? Here is some information about legal rights under workers' comp.
What types of construction head injuries occur?
Construction head injuries are some of the most common causes of disability in the workplace. They can be mild causing just a bump, bruise, or or cut on the head. It is also possible to suffer from a moderate to severe injury resulting in concussion, fractured skull, internal bleeding, or damage to the brain.
Individuals who sustain these types of injuries may find themselves quick to anger and unable to deal with family or co-workers. Personality change is common for people diagnosed with a traumatic brain injury (TBI). We also see people who suffer from chronic headaches, seizures, sensitivity to light/sound, speech problems, nausea, depression, and severe fatigue.
Does Michigan workers' comp cover these types of construction head injuries?
In Michigan, employees who suffer from construction head injuries are protected under workers' comp regardless of fault. It pays for all medical bills regardless of the cost. It also covers a percentage of lost wages. Vocational rehabilitation is another potential benefit that helps people transition to a new job or career.
What benefits can I receive?
Employees on workers' comp should get 80% of their after-tax average weekly wage. This includes money for overtime, discontinued fringe benefits, and second jobs. All reasonable and necessary medical treatment should be covered. Employees who need help finding a new job can get vocational rehabilitation.
Family members of individuals who die on-the-job could be entitled to survivors benefits under workers' comp. The amount paid will be 500 weeks of wage loss benefits.
Average workers' comp settlements for construction head injuries
In Michigan, though there isn't an average settlement amount published for these types of head injuries suffered on job sites, statistics published by the WDCA show the average workers' comp settlement amount in Michigan for 2021 was $63,313.86. This is not a lot of money for someone with lifetime problems. Our clients get much more when evidence shows the need for additional medical treatment and extended time off from work.
Watch out for IME doctors!
Insurance companies use IME doctors to say your injuries are not significant. They write biased reports saying a person has fully recovered or was never hurt in the first place. Many of these doctors make careers out of testifying against disabled employees and make millions of dollars for themselves.
Hiring an experienced Michigan construction accident lawyer typically results in a much larger settlement. Understanding medical and legal issues is the key to a successful negotiation with the insurance company. Attorney fees are relatively small and quickly made up by higher settlement amounts. Call today for a free telephone consultation and never pay a dime unless additional benefits are recovered.
Injured at work? Contact our lawyers for a free consultation
If you suffered a head injury on the job site in Michigan and have questions about your claim, call now speak with an experienced construction accident lawyer, or fill out our contact form for a free consultation. There is absolutely no cost or obligation. We're here for you.
Our attorneys have been exclusively helping injured workers in Michigan for more than 35 years. Our attorneys can help you better understand Michigan workers' comp laws and what happens after someone has been hurt on the job. To see what our own clients have to say about the caring, compassion, and communication they received from us, you can read in their own words about their experience here on our testimonials page from clients we have helped.
Michigan Workers Comp Lawyers never charges a fee to evaluate a potential case. Our law firm has represented injured and disabled workers exclusively for more than 35 years. Call (844) 316-8033 for a free consultation today.
Related information: