Don't wait to tell your employer about a work injury and other important time limits.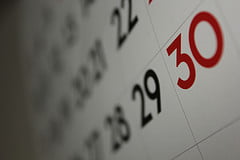 Michigan workers compensation can feel like a complicated maze. Both employees and employers have significant responsibilities after a workplace accident.
Not following the rules can have serious consequences. Here are some of the more common questions about time limits that we receive.
Please remember that each situation is different and you should talk with an attorney about your individual case.
1. How long do I have to report injury?
You must provide notice to your employer within 90 days. Notice can be oral so if you told a supervisor or manager that should be enough.
2. How long until my first check arrives?
You must be disabled for at least 1 week before wage loss benefits are owed. A week is 7 consecutive days and includes weekends. Missing 2 weeks or more will result in payment from the first day of disability.
3. When can I see my own doctor?
You can choose your own doctor after 28 days. The time period begins when you first seek medical care.
4. How long until medical bills are paid?
Medical bills should be paid within 30 days from when the insurance company receives notice. Penalty for late payment is $50 or the amount of the bill, whichever is less.
5. When will my settlement check arrive?
There is a 15 day appeal period before settlement is final. You should receive payment shortly thereafter. You can waive the appeal period with permission from the Agency Director.
Michigan Workers Comp Lawyers never charges a fee to evaluate a potential case. Our law firm has represented injured and disabled workers exclusively for more than 35 years. Call (855) 221-2667 for a free consultation today.
Related information:
Statute of Limitations and Michigan Workers Compensation
Photo courtesy of Creative Commons, by DafneCholet.