Michigan workers' comp lawyer explains the consequences for not following medical advice and refusing surgery.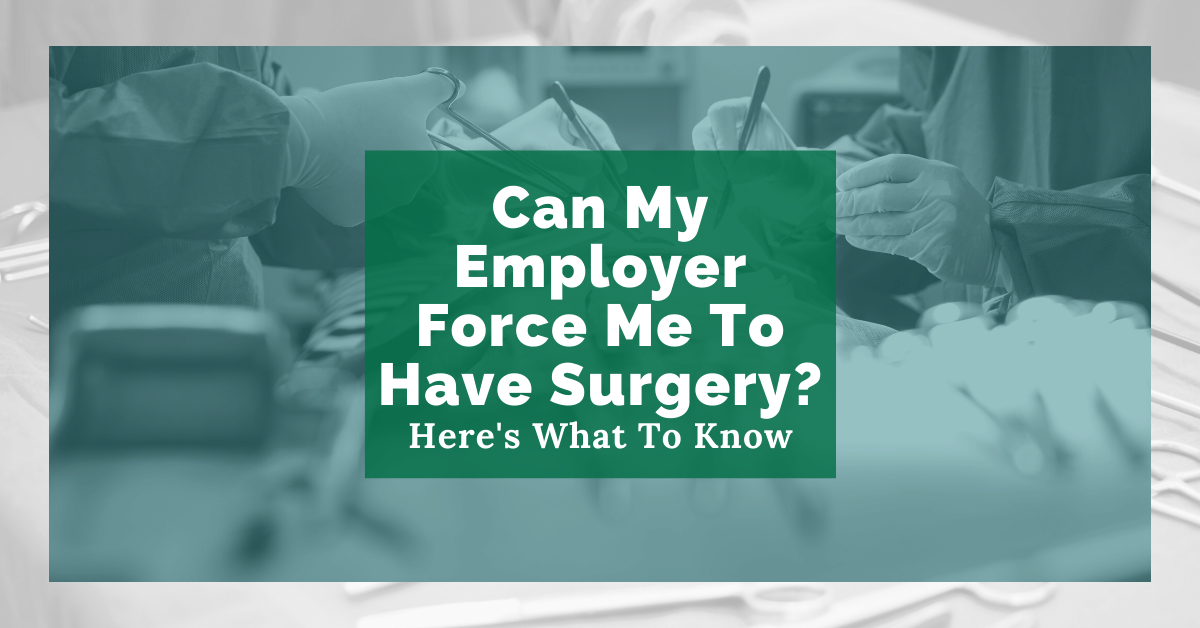 Employees who are hurt on-the-job have many legal rights in Michigan. It does not matter how they got hurt, just that it arose in the course and scope of employment. They are entitled to payment of lost wages, medical treatment, and vocational rehabilitation. Understanding these legal rights is the key to getting a fair workers' comp settlement. One frequent question involves compliance with medical treatment. Specifically, can my Michigan employer force me to have surgery? The answer is generally 'no,' but there is one big exception that everyone should know about.
While your Michigan employer can't force you to have surgery, some of our clients refuse it even when recommended by their doctor. This is understandable considering the inherent risks of any surgical procedure. It is common for patients to be given a document that outlines all potential risks including death. There are also no guarantees of success. It is not surprising why people are asking us: Can my employer force me to have surgery?
Employers and insurance companies will use a decision to refuse surgery as justification to dispute workers' comp benefits. Weekly disability payments are stopped. The idea is that an employee is prolonging their disability for no good reason. It is despicable act by insurance companies when good cause exists for refusing surgery.
Michigan law is controversial when it comes to refusing a surgical procedure. Treatment options that are reasonably likely to cure a disability cannot just be ignored. However, if the surgery is dangerous or invasive then good cause may exist to refuse. The proposed surgery must also offer a reasonable chance to be successful.
Can my Michigan employer force me to have surgery?
Your Michigan employer can't force you to have surgery. Employees always have the right to say no to any surgical procedure, but it could impact their entitlement to wage loss benefits. You might find your weekly wage loss checks stop if you refuse surgery.
Though your employer can't force you to have surgery it is important to note that most situations will need to be evaluated on a case by case basis. A good example where an insurance company can require surgery is when someone has carpal tunnel syndrome. This type of surgical procedure is low-risk, and it is likely to be successful. A spinal surgery is a much different story.
If a workers' comp claim is disputed based upon refusal to a surgical procedure, then the burden falls on the employee to file an Application for Mediation or Hearing. It will be up to a magistrate to decide if good-cause exists to refuse surgical procedure and whether additional workers' comp benefits should be paid.
Employees who find their workers' comp benefits disputed should investigate whether their claim can be settled. This is when workers' comp benefits are traded for a lump sum cash payment. Insurance companies will often include the value of any surgical procedure into the settlement. This allows a person to refuse the procedure now but still have the means to pay for it in the future.
Michigan Workers Comp Lawyers never charges a fee to evaluate a potential case. Our law firm has represented injured and disabled workers exclusively for more than 35 years. Call (844) 316-8033 for a free consultation today.
Related information:
Workers' Comp Future Medical Buyout: What You Need To Know