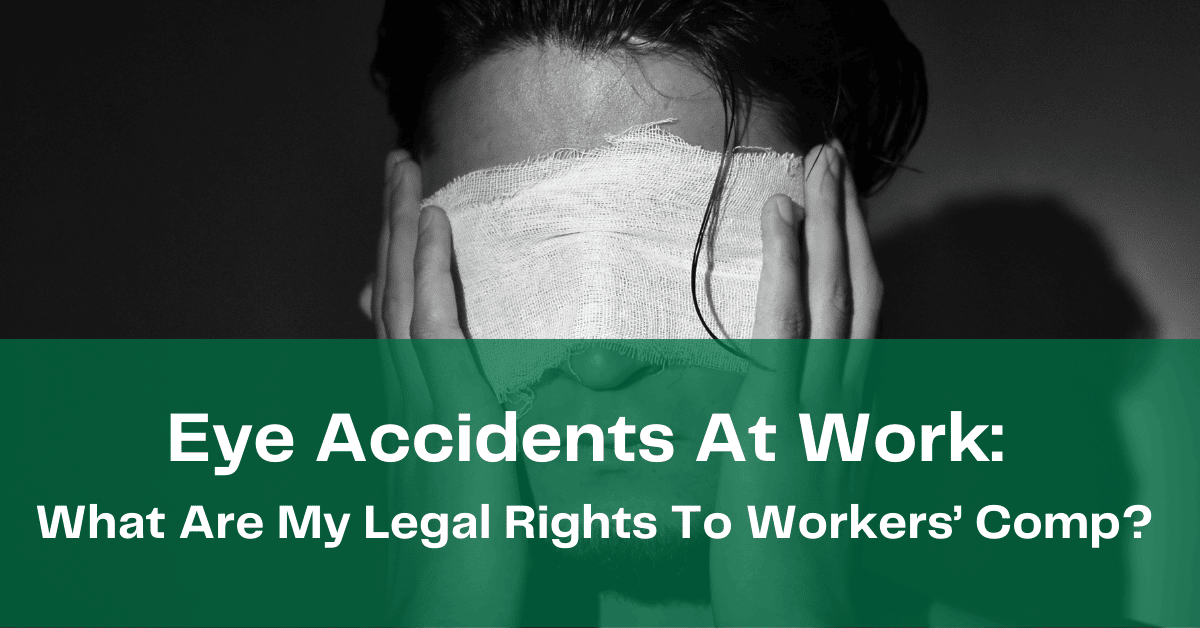 What employees hurt on-the-job need to understand about eye accidents at work in Michigan.
A workplace accident can result in lifetime medical problems. This is especially true for employees who lose partial or total vision. It can impact their ability to perform their job as well as other aspects of their daily lives. Here is some information for that every employee should know if they have injured their eye in an accident at work in Michigan.
About workers' comp benefits
Employees hurt on-the-job are entitled to receive workers' comp benefits regardless of how the accident happened. This includes situations where a person might have been engaged in some minor horseplay. Intentional and willful misconduct may lead to a valid denial of workers' comp benefits.
An injury to your eye in an accident at work in Michigan could cause vision loss and trigger payment of specific loss benefits. This is a minimum number of paid weeks off regardless of whether an employee returns to work. Employees who lose an eye should get 162 weeks of wage loss benefits guaranteed. Both eyes would result in 324 weeks of specific loss. Eighty percent loss of vision of 1 eye shall constitute the total loss of that eye.
Workers' comp also pays for unlimited medical treatment without any copayments or deductibles being owed by the employee. Additional wage loss benefits beyond 162 weeks should be paid under a theory of general disability if an employee is unable to return to work. Vocational rehabilitation should also be offered to help a person transition to a new career if needed.
How much is paid for an injury to the eye after an accident at work in Michigan will depend upon the highest 39 paid weeks during the 52 week period before a person got hurt. An employee should get 80% of their after-tax average weekly wage. Overtime, discontinued fringe benefits, and even second jobs that can no longer be performed should be included in this calculation.
Watch out for insurance company games
Insurance companies try to save money by sending people back to work too quickly. Medical treatment gets denied based upon what they believe to be reasonable and necessary. This is all done with biased medical opinions from so called "independent" doctors who perform one-time examinations. Unfortunately, many of these doctors make careers out of testifying against disabled employees and their opinions are often wrong. It is important to challenge any unfair dispute to protect legal rights.
Insurance companies also make low-ball settlement offers based upon the specific loss payout for an eye injury that happened in an accident at work in Michigan. They do not want to overpay and try to save money at people's expense. We believe any amount for settlement must include money for the specific loss, future medical expenses, and general disability. This can add up to tens of thousands of dollars over a person's lifetime. Don't settle for 162 weeks and give up workers' comp benefits without speaking to an experienced attorney first. There is no charge to discuss a potential case and attorney fees are only paid if a recovery is made.
Injured your eye in an accident at work in Michigan? Contact our workers' comp lawyers for a free consultation
If you injured your eye in an accident at work in Michigan call us now to speak with an experienced workers' comp attorney about your claim or fill out our contact form for a free consultation. There is absolutely no cost or obligation. We're here for you.
Our attorneys have been exclusively helping injured workers in Michigan for more than 35 years and can help you better understand Michigan workman's comp laws to ensure your legal rights are protected. To see what our own clients have to say about the caring, compassion, and communication they received from us, you can read in their own words about their experience here on our testimonials page from clients we have helped.
Michigan Workers Comp Lawyers never charges a fee to evaluate a potential case. Our law firm has represented injured and disabled workers exclusively for more than 35 years. Call (844) 316-8033 for a free consultation today.
Related information: