Michigan lawyer explains how insurance companies deny valid workers comp claims based upon questionable medical opinions.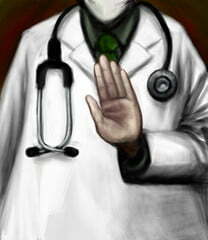 Workers comp is supposed to pay for reasonable and necessary medical treatment for any on-the-job injury regardless of fault.  You should also receive weekly wage loss benefits for any period of time that you cannot work because of your injury.
One of the toughest parts of my job is explaining to clients that workers comp benefits have been denied based upon an independent medical examination. Insurance companies will often deny workers comp benefits based upon an independent medical examination regardless of what your own doctor says.
The truth about independent medical examinations
The truth is that these medical examinations are never independent.   Insurance companies use the same doctors over and over again because they know ahead of time what the result will be.  It is common for a doctor who performs an independent medical examination to find no evidence of an injury or to find that the injury it is not work-related. 
Our clients often report that the independent medical examination takes no more than 10-15 minutes and the doctor has little interest in hearing about how the injury occurred.
Many of these doctors make a career out of testifying for insurance companies and earn hundreds of thousands of dollars per year.  While injured workers suffer without medical treatment and wage loss benefits, these doctors get rich.
You must attend an independent medical examination if requested
Michigan law requires that you attend an independent medical examination setup by your employer or the insurance company.  You may also be required to attend several different independent medical examinations.  If you refuse to attend an independent medical examination, you could forfeit your right to workers comp benefits. 
So how do you protect your right to workers comp benefits
Do not lose hope if your workers comp benefits have been denied because of an independent medical examination.  Recognize that these doctors do not have your best interests at heart and call an experienced workers comp attorney immediately.
You should attend any independent medical examination that has been scheduled for you and try your best to cooperate.  Explain how you injured yourself at work and about your symptoms.
An experienced workers comp lawyer can stop insurance company abuse and can challenge a bad medical opinion in court.
To speak with one of our workers compensation attorneys, call (855) 221-2667 for a free consultation.
– Alex Berman is the founder of the law firm. He's been representing injured and disabled workers exclusively for more than 30 years. Alex has helped countless people obtain workers compensation benefits and never charges a fee to evaluate your case.
Related Information:
Attendant Care: The hidden benefit that workers comp won't always tell you about
Help, I hurt my back at work and they won't pay me workers comp!
– Photo courtesy of Creative Commons, by Truthout.org.
02/01/2011