Detroit workers compensation lawyer explains how agricultural employees can be excluded from coverage and why the law must be changed to reflect the new reality of urban farming.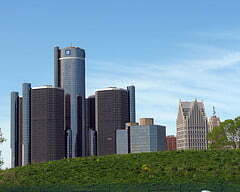 The City of Detroit stands at a crossroads. Hundreds of acres of land sit vacant and decay has gripped our community. Urban farming has been seen as one possible solution and is starting to gain traction.
Urban farming is not just your local gardener who grows food. It has the potential to become big business with exports of agricultural products around the country and world.
The Detroit Free Press recently reported on a plan by Michigan State University to build an urban-agricultural research center that could grow into a 100-acre campus and a $100-million investment. The idea is to turn the City of Detroit into a central hub for cutting edge agricultural research. Research efforts would include "vertical agriculture," in which food is grown inside multi-story buildings.
Urban farming is a new industry based on an old idea. We imagine a new generation of agricultural employees performing their jobs in urban environments and being exposed to all kinds of new dangers.
Workers compensation
Michigan law requires most employers to purchase workers compensation insurance for their employees. This requirement is intended to protect both the employer and the employee in the event of a workplace injury or illness.
Michigan adopted its first workers compensation law in 1912.  The law was a compromise between employer and employee interests. The employer gets protection from civil lawsuits while the employee is guaranteed payment of medical and wage loss benefits.
Michigan's workers compensation system is not perfect but it has worked for 100 years and served as a model for several other states.
Agricultural employees excluded
In 1965, the Michigan Legislature revisited workers compensation and exempted smaller agricultural employers from having to purchase coverage.
Legislative history shows a concern that bringing all agricultural employees into the workers compensation system would be too costly for some agricultural employers. Many of these agricultural employees were farmers themselves, farm wives, sons, daughters, and other relatives. It was estimated that the aggregate number of full time hired farm workers was only between three and five thousand persons at this time.
The solution was to carve out and exempt certain classes of agricultural employers from having to purchase workers compensation insurance. This has resulted in a complicated statutory scheme that leaves out many agricultural employees who suffer legitimate injuries.
For example, we currently represent an individual who was paralyzed from a work accident on a farm. The insurance company concluded that since his employer had less than 3 employees and he was only paid on a piecework basis, he was not covered under workers compensation. He has never received a dime for wage loss benefits even though he is totally disabled.
An easy fix
Urban farming could lead to a huge increase in the number of people working in the field of agriculture. Many new businesses will attempt to ride this wave of innovation. The most vulnerable and lowest paid will certainly be the agricultural workers themselves.
Our Legislature could not have envisioned urban farming and the potential dangers that these employees may face. Michigan law should be amended to correct this imbalance. Agricultural employers should be required to purchase workers compensation insurance just like all other private employers in the state.
To speak with one of our Detroit workers compensation lawyers, call (855) 221-2667 for a free consultation.
– Alex Berman is the founder of Michigan Workers Comp Lawyers. He's been representing injured and disabled workers exclusively for more than 35 years.  Alex has helped countless people obtain workers compensation  benefits and never charges a fee to evaluate a case.
Related information:
Stephen I. Kaufman – Detroit Workers Comp Lawyer Recognized
– Photo courtesy of Creative Commons, by Dave Hogg.
07/01/2012