Michigan workers compensation lawyer explains how out-of-state injuries are covered and how to get more benefits.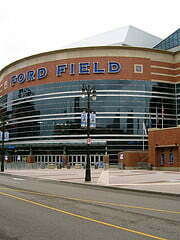 The NFL lockout is over and a new collective bargaining agreement has been approved. This is welcome news for football fans everywhere. This is especially true in Detroit where the Lions look ready to have a great season.
It should come as no surprise that playing in the NFL is a rough job. These guys suffer serious injuries that can require a lifetime of medical treatment.
A major issue during negotiation of the collective bargaining agreement was workers compensation. The league wanted to restrict players from seeking benefits outside their home states.
Workers compensation pays medical and wage loss for injuries at work. Every state is different in the amount and duration of benefits.
Why it matters where you collect workers compensation
Business Insurance reports that the new collective bargaining agreement will allow players to file workers compensation claims in states where their teams are not based, a loophole the league had tried to close during negotiations.
The New York Times previously found that many retired NFL players were filing claims in California because they only needed to play one game in the state to qualify for benefits. Some of these players have received awards or settlements worth more than $100,000.00.
It is likely that these players would not have received such generous compensation in their home states. Some may have already settled or exhausted other workers compensation claims.
How this applies to workers compensation in Michigan
The U.S. Supreme Court has ruled that an individual can file for workers compensation benefits in any state that has jurisdiction.  This is important for people with out-of-state injuries because they can sometimes pick the state with the most generous benefits. This is exactly what the NFL players were trying to accomplish.
Michigan pays wage loss for as long as you are disabled and medical for life. A person can claim workers compensation benefits for an out-of-state injury in Michigan if he or she was a resident at the time or the contract of hire was made in the state.
A person can also collect benefits in one state and then file in another. The only way to end liability for workers compensation benefits in Michigan is through a redemption hearing with approval of a magistrate. The employer will get a credit for any benefits previously paid but additional recovery is possible.
What this means for you
The goal should always be to maximize the amount of benefits that you receive from workers compensation. This allows you to support your family during difficult times and recover faster.
An experienced workers compensation lawyer can help you determine what state will pay you the most benefits and advise you on where to file your claim.
Call (855) 221-2667 for a free consultation with an experienced workers compensation lawyer in Michigan.
– Alex Berman is the founder of Michigan Workers Comp Lawyers. He's been representing injured and disabled workers exclusively for more than 35 years.  Alex has helped countless people obtain workers compensation benefits and never charges a fee to review a case.
Related Information:
FAQs about workers compensation to help protect you
Workers compensation benefits denied or terminated
– Photo courtesy of Creative Commons, by TerryJohnston.
08/01/2011