Michigan lawyer challenges doctor who performed IME and gets slapped with a grievance.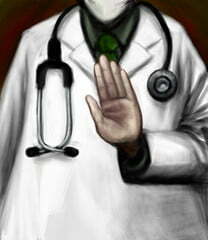 Attorney Steven Gursten is fighting a grievance filed by a local doctor. She is upset over a blog post challenging her testimony in an auto negligence case. Turns out this doctor is also a member of the Michigan Attorney Discipline Board. Talk about a potential conflict of interest!
We support Mr. Gursten and the evidence presented certainly raises some eyebrows. You can read his blog and decide for yourself. He also brings up some important questions about the entire IME process.
WorkCompCentral picked up the story and called our office for an interview. You can read the full article on its website with comments from Jeff Kaufman.
Taking the "independent" out of medical examination
Michigan workers' comp law requires that a person submit to a medical examination of the employer's choosing. These examinations are not "independent." Insurance companies use the same doctors over and over again because they know what to expect. Many of these doctors make a career out of testifying and earn hundreds of thousands each year.
If the IME doctor says you are fully recovered then expect to get cut-off. Sometimes it is determined that your medical condition was never even caused by your work. This occurs months after you first submitted a claim.
Biased medical opinions must be challenged in court. You can submit deposition testimony from your treating doctor. Unfortunately, this process can take months or years to resolve. Our clients suffer while their workers' compensation benefits are stopped.
Michigan needs better rules to protect claimants from these unfair practices. We think any doctor who gets more than 15 percent of his or her income from testifying should be disqualified based upon a conflict of interest.
Michigan Workers Comp Lawyers never charges a fee to evaluate a potential case. Our law firm has represented injured and disabled workers exclusively for more than 35 years. Call (855) 221-2667 for a free consultation today.
Related information:
Five reasons why our clients hate the IME
Photo courtesy of Creative Commons, by Truthout.org.