Michigan lawyer explains the difference between workers' comp vs long term disability and explains how you can get both at the same time.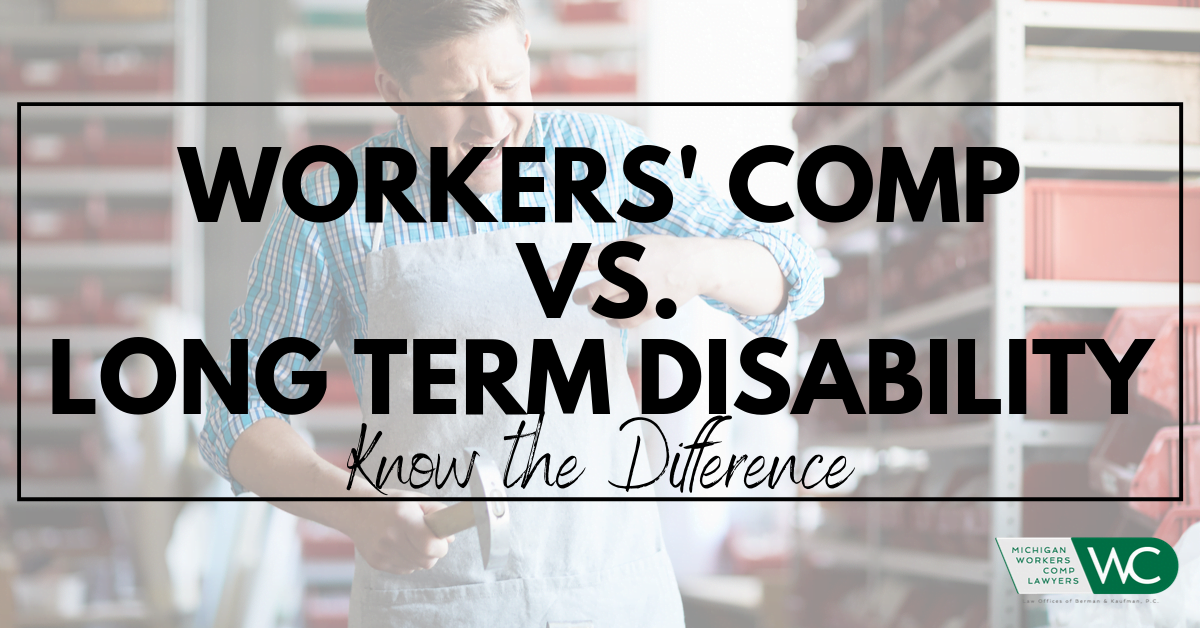 We frequently get telephone calls and emails from people hurt on-the-job who are forced to make a claim for long term disability (LTD) insurance instead of workers' compensation. It usually happens when there is some controversy about how the accident occurred or what the medical shows. It is an easy decision to accept LTD insurance when faced with the prospect of not having any income. But this is not always the best course of action for people hurt at work.
Employers want people on LTD insurance because it costs them less money. Here is some information about workers' comp vs long term disability that every disabled employee should know.
Workers' comp vs long term disability explained
Workers' compensation is a type of insurance that employers are required to purchase under Michigan law. Premiums are paid 100% by the employer and it is a no-fault type system. It pays lost wages, medical treatment, attendant care, home modifications, and vocational rehabilitation. Disputed claims are resolved through an administrative hearing with a state magistrate. Most disputed workers' compensation claims are settled for a lump sum cash payment.
Long term disability is a type of insurance that pays lost wages if a person cannot work because of a medical condition or illness. It is usually purchased through a group policy and premiums are taken out of employee paychecks. It is typically governed under federal law and it can be extremely difficult to challenge a denial. The amount paid will usually be reduced if a disabled employee is later approved for Social Security disability benefits (SSDI).
When comparing workers' comp vs long term disability insurance, workers' compensation is superior because it is tax free money. It also pays for medical care without any copays or deductibles and is a lifetime benefit while LTD insurance might only last a short period.
How to get both long term disability and workers' compensation?
Our job as lawyers is to maximize the amount of benefits that a disabled employee receives. Just because an employee is receiving long term disability does not mean they cannot file a second claim for workers' compensation.
Long term disability must typically be paid back if a disabled employee later receives workers' compensation. However, lump sum cash settlements from workers' compensation can be allocated in a way that avoids significant payback.
We have been very successful in getting long term disability to continue payment with only a small offset. This allows a disabled employee to get both long term disability and workers' compensation benefits.
Not all LTD insurance policies are the same and coordination with workers' compensation can be extremely complicated. It is a good idea to have an experienced lawyer review individual circumstances before action is taken. Call us with any questions regarding workers' comp vs long term disability. We offer free advice and never charge a fee unless additional money is obtained.
Michigan Workers Comp Lawyers never charges a fee to evaluate a potential case. Our law firm has represented injured and disabled workers exclusively for more than 35 years. Call (844) 201-9497 for a free consultation today.
Related information: