Michigan workers comp lawyer explains why trial is sometimes unavoidable and how a magistrate will decide the case.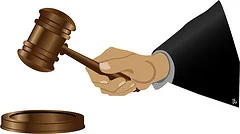 Some workers comp cases cannot be settled and must proceed to trial. This is usually the option of last resort because of the potential to lose all benefits. There are many factors that influence whether a case will go to trial. The most important is the amount of money that an insurance company is willing to pay for settlement.
Many people are under the assumption that they have a right to a jury trial. It is their belief that they have been wronged and they deserve pain and suffering damages. This is not correct as workers comp cases can only be decided by a magistrate. Pain and suffering is not available and a person is limited to statutory benefits.
Most insurance companies will make some offer of settlement prior to starting trial. This is due to the cost of litigation and the potential risk of paying future benefits. A settlement offer will always be based upon the amount of benefits that an insurance company anticipates having to pay. It is mainly a business decision and the insurance company would rather take its chances at trial than pay more than a case is worth.
So who decides my workers comp case?
Magistrates are appointed by the governor with the advice and consent of the senate. There used to be specific qualifications but those were eliminated with the passage of House Bill 5002. Magistrates are now strictly political appointees.
The truth is that most people bring their own personal biases to their jobs. Magistrates who decide workers comp cases are no different. Some have backgrounds representing insurance companies while others have spent their careers fighting for injured workers. These experiences can color the way a magistrate views an injury. It's not intentional but it can make a difference in a close case.
What to expect at trial
Forget what you have seen in movies and television when it comes to a workers comp trial. There is no fancy courtroom or spectators. The magistrate will hear the evidence and then issue a written opinion at a later date.
Witness testimony will be taken under oath and is always recorded.  Other evidence submitted at trial includes medical records and deposition testimony from doctors and vocational experts.
The magistrate will then make a determination as to the facts and law. This is done by judging the credibility of witnesses and expert testimony. Trial can last anywhere from a few hours to a few days.
How the deck is stacked against you
Insurance companies and self-insured employers have spent large sums of money to change Michigan's workers comp law. This is most recently demonstrated by the passage of House Bill 5002. It is no secret that special interest groups used political pressure to make sure this horrible legislation passed.
Wage loss benefits can now be reduced based upon imaginary wages from a job that a person doesn't even have. The burden is then placed on the injured worker to convince a magistrate that these jobs don't exist. A person could find themselves in the position of winning at trial but only receiving a few dollars per week in benefits.
Get free help
An experienced workers comp lawyer can prove the case at trial and ensure full payment of benefits. Bad medical opinion can be challenged and vocational experts cross-examined.
Call (855) 221-2667 to speak with one of our workers comp lawyers in Michigan. We will do everything possible to protect your legal rights and ensure you receive fair compensation for your work-related injury.
– Alex Berman is the founder of Michigan Workers Comp Lawyers. He's been representing injured and disabled workers exclusively for more than 35 years.  Alex has helped countless people obtain workers comp benefits and never charges a fee to evaluate a case.
Related information:
Workers Comp 101: Know what to expect when your case is filed
– Photo courtesy of Creative Commons, by Vectorportal.
07/01/2012