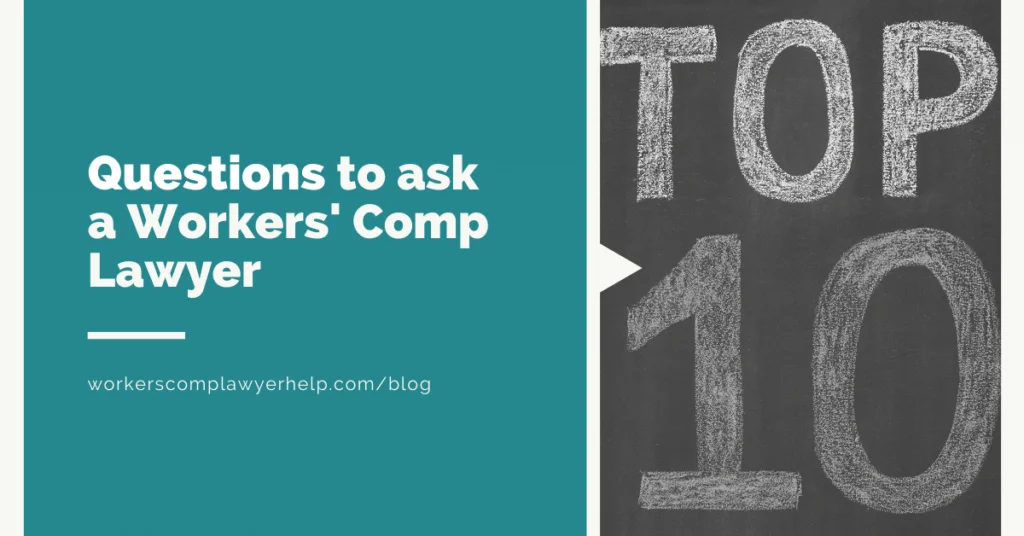 Questions to ask a workers' comp lawyer and how to make sure legal rights are protected.
Getting hurt on-the-job is very stressful. Workers' comp benefits can be disputed at any time. We believe knowledge is power, and injured workers should understand their legal rights. Here are our top 10 questions to ask a workers' comp lawyer.
Q1. How do I start workers' comp?
This is one of the most important questions to ask a workers' comp lawyer and it goes without saying. Workers' comp is insurance that almost all employers are required to purchase. It is a safety net for people hurt on-the-job. Notice of injury must occur within 90 days. A claim must occur within 2 years. Both notice and claim can be oral so simply telling a manager or supervisor should be enough. If an employer refuses to start a claim, send Form WC-117 to the Agency.
Q2. What does workers' comp pay?
Employees who are disabled are entitled to receive weekly wage loss checks. The amount paid should equal 80% of their after-tax average weekly wage. A good rule of thumb is 60% of gross wages. Watch out for unfair reductions based upon "wage earning capacity."
Q3. Who pays medical bills?
This is another very common but important question to ask a workers' comp lawyer. Workers' comp pays for all reasonable and necessary medical treatment. This includes emergency visits, doctor appointments, prescription medication, physical therapy, surgery, prosthetics, durable medical equipment, attendant care, mileage, and home modifications. There should never be any copays or deductibles owed.
Q4. Can I choose my own doctor?
Employees covered under workers' comp can select their own doctors after 28 days. Watch out for insurance companies who deny this legal right.
Q5. What happens if my claim is denied?
Individuals who are denied can file an Application for Mediation or Hearing with the State of Michigan. A legal process exists for dispute resolution. Medical and vocational evidence can be used to show that workers' comp benefits should be paid. Do not start a case without speaking with an experienced workers' comp lawyer.
Q6. Will health insurance cover my injury?
This is another great question to ask a workers' comp lawyer. Most group health insurance plans cover disputed medical bills. This includes Medicaid and Medicare. Individuals who get a settlement or award under workers' comp must reimburse these entities. An experienced workers' comp lawyer can negotiate lien amounts and ensure money stays in the disabled employee's pocket.
Q7. Can I be fired from my job?
Michigan's workers' comp law does not guarantee future employment. However, it is possible that an employee would be protected under a union contract or federal law. An employee cannot be fired in retaliation for asserting his or her legal rights.
Q8. Do I need to search for other work?
Insurance companies unfairly reduce weekly wage loss checks based upon "phantom wages." Performing a good-faith job search is evidence that no other jobs exist within qualifications, training, and restrictions.
Q9. Workers' comp settlement value?
Workers' comp benefits can be traded for a lump sum cash payment. How much depends upon the extent of disability and future medical needs. Multiple the comp rate by 52 to get an annual amount. Cost of future medical treatment can also be estimated. Use these values to negotiate with the insurance company. This should always be part your list of questions to ask a workers' comp lawyer.
Q10. How much does a workers' comp lawyer charge?
Here is a common question to ask a workers' comp lawyer. Michigan law sets a maximum fee at 15% of the first $25,000.00 and 10% on the remainder of any settlement. Disabled employees currently receiving workers' comp benefits pay as little as 10%. A compromised voluntary payment or successful award at trial can result in a fee up to 30%. There should be no fee unless workers' comp benefits are successfully obtained.
Michigan Workers Comp Lawyers never charges a fee to evaluate a potential case. Our law firm has represented injured and disabled workers exclusively for more than 35 years. Call (844) 201-9497 for a free consultation today.
Related information:
Workers' Comp Denied My MRI: Now What?