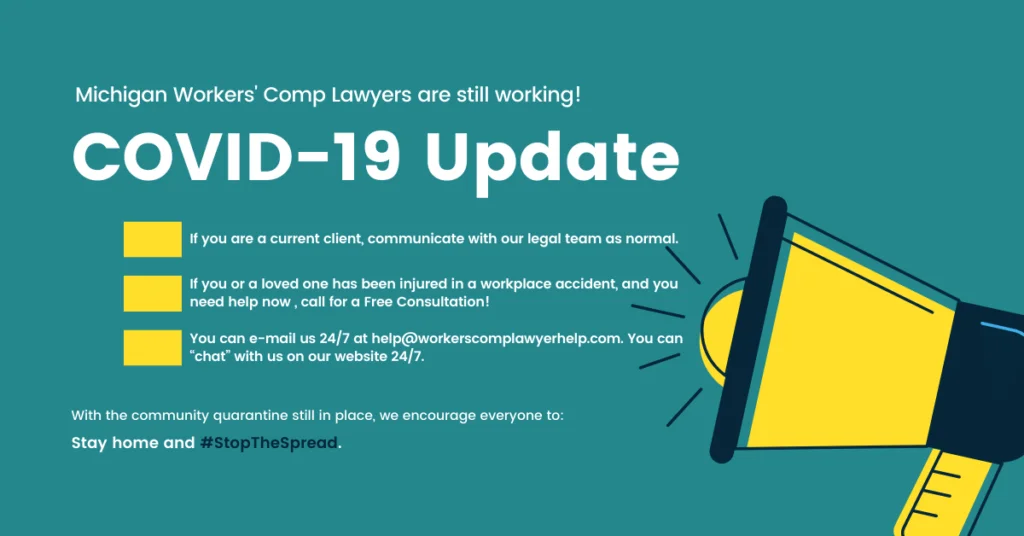 Our commitment to helping employees injured on-the-job is strong as ever!
We are committed to helping people hurt on-the-job during this unprecedented COVID-19 health crisis. Our entire legal team is mobilized and working remotely from home locations.
During this 3 week Stay-At-Home Order for Michigan residents, you can still connect with us at any time, day or night, without ever having to leave your home. Here are just some of the ways to connect with us:
If you are a current client, please communicate with our legal team as normal. Our telephone lines are open! Documents can be emailed or sent via U.S. Mail.
If you or a loved one has been injured in a workplace accident and you need help now, call us toll-free at 1 (844) 337-5167 for a consultation. We are available 24/7 to take your call. There is no charge for this service.
You can "chat" with us on our website 24/7.
We thank you for your patience, understanding, and placing your trust in Michigan Workers Comp Lawyers. We remain here for you, and our attorneys and professional staff are working as hard as ever.
What Michigan Workers Comp Lawyers can do for YOU!
We've made substantial investments in technology, allowing our attorneys and professional staff to work uninterrupted on your workers' comp case. These investments in technology allow us to
Be available NOW when you need us! – We are ready to answer your telephone calls, emails, and web chats about your workplace accident. We can start the process to help you immediately. Advice is 100% free and the employer/insurance company does not need to know you called.
Help includes getting medical bills and lost wages paid – We can make sure that you are getting all the workers' comp benefits that you deserve. Medical bills should be paid without copay or deductibles. Wage loss benefits should equal 80% of your after-tax average weekly wage.
Keep you up-to-date – Our attorneys and professional staff continue to stay in contact about any recent developments with your case. The Workers Disability Compensation Agency is closed to in-person hearings until April 20, 2020. We are conducting redemption hearings telephonically and settlements are still being paid out. Check our blog frequently for updates!
Start a lawsuit – If your employer or its workers' comp insurance carrier refuses to pay, our attorneys can e-file the Application for Mediation or Hearing. We can hold them accountable and make sure your family is protected.
Settling cases – Our attorneys are continuing to secure excellent settlements for clients. This includes situations where people are currently receiving benefits or have seen their claim disputed. Contact our office and find out what your claim is worth!
Please stay safe during COVID-19
We are taking the health threats of Coronavirus Disease (COVID-19) very seriously and we will continue to follow the guidance of the CDC and state authorities.
Your health and safety is our number one priority. Please contact us if scheduled for an independent medical examination (IME) or wage-earning capacity assessment. Disabled employees should not be punished for being unable to comply with these requests. Partially disabled employees who are laid off from their jobs because of COVID-19 should receive differential wage loss benefits.
Michigan Workers Comp Lawyers never charges a fee to evaluate a potential case. Our law firm has represented injured and disabled workers exclusively for more than 35 years. Call (844) 316-8033 for a free consultation today.
Related information:
Coronavirus Disease (COVID-19)