Workers comp lawyer in Michigan shares winter driving safety tips and explains your benefits if you get into a car accident.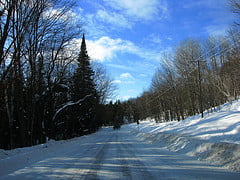 Winter has finally arrived in Michigan. The snow is falling and temperatures are below freezing. It's not a great time if you need to drive for work.
You may have no choice about driving in the winter months but your health and safety should always come first.
Here are some tips on winter driving to help you avoid an accident. You should also know that workers comp benefits are available if you are hurt while driving for your job.
Driving safely on icy roads
Weather.com offers the following tips:
1. Decrease your speed and leave yourself plenty of room to stop. You should allow at least three times more space than usual between you and the car in front of you.
2. Brake gently to avoid skidding. If your wheels start to lock up, ease off the brake.
3. Turn on your lights to increase your visibility to other motorists.
4. Keep your lights and windshield clean.
5. Use low gears to keep traction, especially on hills.
6. Don't use cruise control or overdrive on icy roads.
7. Be especially careful on bridges, overpasses and infrequently traveled roads, which will freeze first. Even at temperatures above freezing, if the conditions are wet, you might encounter ice in shady areas or on exposed roadways like bridges.
8. Don't pass snow plows and sanding trucks. The drivers have limited visibility, and you're likely to find the road in front of them worse than the road behind.
9. Don't assume your vehicle can handle all conditions. Even four-wheel and front-wheel drive vehicles can encounter trouble on winter roads.
What happens after an accident?
A person who is injured in an auto accident while in the course of his or her employment is entitled to benefits from workers comp. It does not matter who was at fault! Workers comp pays lost wages, medical bills, mileage reimbursement, attendant care, and vocational rehabilitation.
Additional benefits from auto no-fault insurance or the driver who caused the accident may also be available. This can compensate you for other damages such as pain and suffering.
To speak with one of our work comp lawyers in Michigan, call (855) 221-2667 for a free consultation. There is never a fee unless you recover benefits.
– Alex Berman is the founder of Michigan Workers Comp Lawyers. He's been representing injured and disabled workers exclusively for more than 35 years.  Alex has helped countless people obtain workers comp benefits and never charges a fee to evaluate a case.
Related information:
Winter safety tips for seasonal workers
– Photo courtesy of Creative Commons, by MSVG.
01/01/2013