MI workers comp lawyer provides the latest information about House Bill 5002 and the coming changes to the law.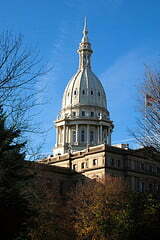 Michigan legislators have given us a Christmas surprise by making it much harder to collect workers comp benefits. House Bill 5002 has passed the Senate paving its way to the Governor's desk. It is expected to become law before the end of the year.
House Bill 5002 comes at a time of record unemployment and while workers comp insurance premiums are expected to decline 7.4 percent next year. The Workers Compensation Research Institute (WCRI), a nonpartisan and not-for-profit organization, recently found that Michigan offers a better value proposition for both employers and injured workers both in terms of medical costs per claim and worker outcomes.
Business and insurance groups have made this legislation a priority and have argued that reform is necessary to help modernize the system. House Bill 5002 was fast tracked and hearings were held during the week of Thanksgiving while many were away for the holiday.
How the workers comp law will change
Employers and insurance companies will now be able to reduce or stop wage loss benefits based upon a hypothetical wage earning capacity. This means that a person's wage loss benefits can be cut based upon phantom wages from a job that may not actually exist. The current law only allows for a reduction if a person can find other work and earn real wages.
Injured workers will now have to file cases to prove they are entitled to full benefits. This will create a workers comp lawsuit explosion. All workers comp cases will now require that a vocational expert be hired to determine the wage earning capacity. This will greatly increase the cost and time of litigation for both employees and employers.
House Bill 5002 also lengthens the amount of time that an employer has to choose medical providers. Injured workers will now have to wait 28 days to see their own doctor. It will not matter if they are receiving substandard medical care or want a second opinion.
Other changes include making it harder to collect workers comp benefits for an aggravation of degenerative arthritis. This heightened evidentiary standard will make claims for back and neck injuries much more difficult because most people have some preexisting arthritis in their spine. Just because they have arthritis does not mean they did not suffer a legitimate work injury.
Also troubling is a provision that allows an employer to stop the payment of wage loss benefits if a worker is terminated for "fault." This means that injured employees could have their wage loss benefits taken away just because they violated a company policy or rule. This provision is extremely vague and ripe for abuse.
How to get help with your workers comp claim
We are committed to protecting injured workers and their families. If you believe that your workers comp benefits have been unfairly reduced or stopped, call (855) 221-2667 for a free consultation.
There is never a fee unless you recover workers comp benefits. Don't suffer in silence while the insurance company makes more money at your expense.
– Alex Berman is the founder of Michigan Workers Comp Lawyers. He's been representing injured and disabled workers exclusively for more than 35 years.  Alex has helped countless people obtain workers comp benefits and never charges a fee to review a case.
Related information:
Michigan unemployment rate for disabled workers tops 70%
– Photo courtesy of Creative Commons, Aunt Owwee.
12/01/2011