Michigan lawyer discusses workers' comp settlement for plantar fasciitis.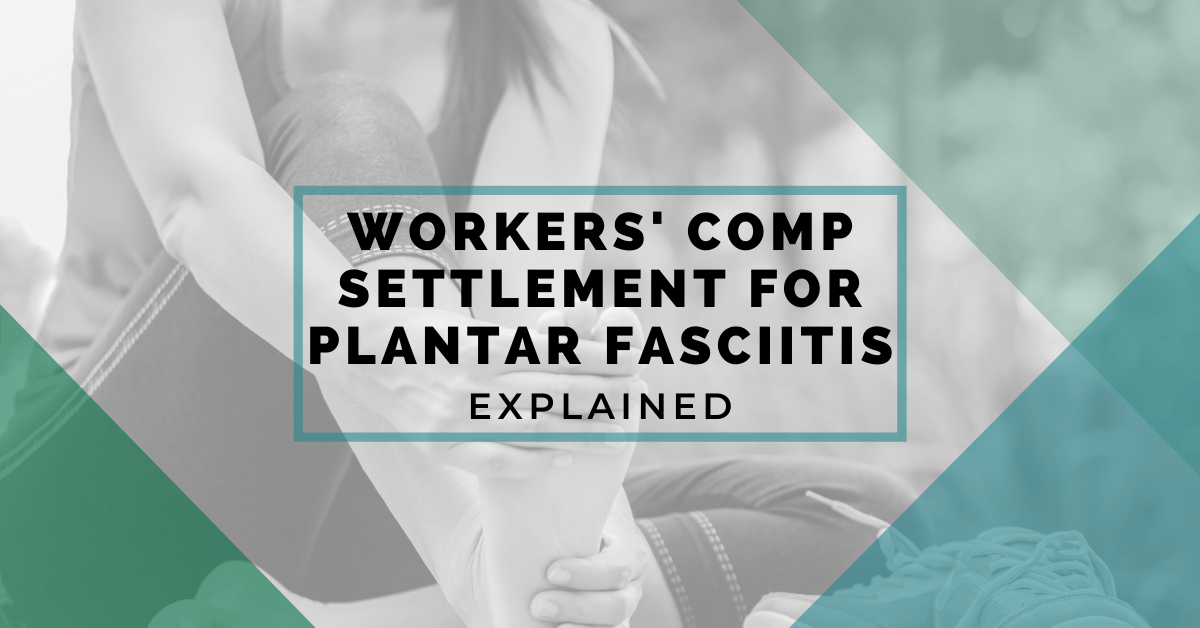 Many of our clients who suffer from plantar fasciitis from work want to know about compensation. This is when they trade work injury benefits for a lump sum cash payment. It allows them freedom to do medical treatment and vocational rehabilitation on their own terms. We recommend this option when they lose their job or cannot return because of restrictions. Here is what to know about workers' comp settlement for plantar fasciitis.
This injury is a frequent cause of heel pain. It is caused by inflammation of tissue running under the food that connects your heel bone to your toes. Stabbing pain is a common symptom and it can interfere with a person's ability to walk or stand. Many of clients develop this occupational disease over a period of months and there is no specific event trauma. Treatment consists of rest, ice, medication, splinting, orthotics, physical therapy, injections, and even surgery.
Average workers' comp settlement for plantar fasciitis
There isn't a specified average workers' comp settlement for plantar fasciitis in Michigan. Statistics published by the Workers' Disability Compensation Agency show the average payout amount for a work-related injury in Michigan was $59,235.42 in 2020.
The payout amount is going to depend upon how much money the insurance company thinks it must pay in medical and wage loss benefits. Insurance companies look at future medical treatment and how long a person is expected to be off work.
Michigan law protects employees hurt on-the-job. It covers medical bills and lost wages when someone is unable to work. Employees are protected under the law immediately and they do not have to prove fault to qualify for benefits.
We tell our clients that a good workers' comp settlement for plantar fasciitis provides sufficient money to cover future medical treatment and enough time off work to heal. Watch out for insurance companies who offer low-ball settlement amounts based upon biased medical and vocational opinions.
Prove causation and disability to qualify for benefits
Medical evidence from a doctor will be required to prove causation and disability. This will explain how the injury/condition developed from reported work activities and establish what restrictions are needed. We recommend coming up with a treatment plan that considers all medical treatment options including future surgeries.
A workers' comp settlement for plantar fasciitis is going to also depend upon the weekly comp rate and how long a person is expected to be disabled. Individuals should receive 80% of their after-tax average weekly wage if they cannot perform their job. This calculation should include money for overtime, discontinued fringe benefits, and even second jobs that can no longer be performed.
Be aware of insurance companies
Watch out for insurance companies who dispute claims based upon biased medical opinions from so called "independent" medical examinations. These doctors are hired to say a person is fully recovered or never suffered from a work-related condition in the first place.
Insurance companies also use post-injury wage earning capacity (PIWEC) to reduce the weekly comp rate. This can impact the value of any settlement because less money owed means less money paid. We recommend hiring an experienced work injury lawyer to challenge unfair vocational assessments and negotiate the highest possible settlement offer.
Michigan Workers Comp Lawyers never charges a fee to evaluate a potential case. Our law firm has represented injured and disabled employees exclusively for more than 35 years. Call (844) 316-8033 for a free consultation today.
Related information:
Workers' Compensation and Fired While On Light Duty