Workers in trucking, vehicle manufacturing vital to keeping business moving, but their distinction as dangerous jobs don't match up to their pay scale
Famous reality television shows such as "Deadliest Catch" and "Ax Men" have glamorized some of America's most dangerous occupations, but many of the most dangerous jobs in the state of Michigan are anything but glamorous. In fact, while some risky jobs pay extremely well, most workers are not even justly compensated for the level of risk involved.
Health care, construction and transportation are vital for our economy, but they also make up the most dangerous jobs, with up to 9,600 injuries per every 100,000 workers.
Most dangerous jobs in the U.S. with inequitable wage gaps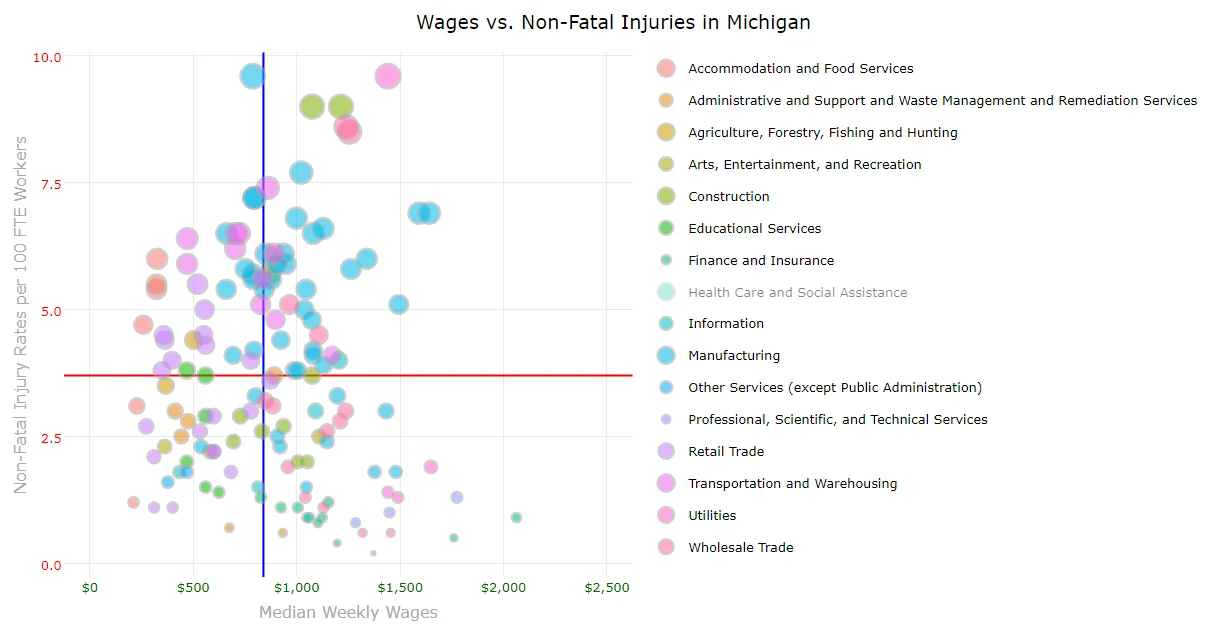 A visual representation of wages and injuries by industry depicts a startling gap in compensation for dangerous jobs. On the higher end of the scale, securities and commodity traders earn an average weekly salary of $2,063 and enjoy an injury rate of 0.9 injuries for every 100 workers. Meanwhile, nursing care facility staff earn just $438 per week, but have an injury rate of 9.2 injuries per 100 workers.
In many cases, workers in safe environments are earning more than double that of the laborers in higher-risk environments. Worse, several high risk-laden industries earn well below average salaries.
Employees in architectural and structural metals manufacturing, nursing and residential care facilities, hospitals, transportation, grocery stores and animal production, among other professions, all face an injury rate higher than the state average — while receiving lower than average compensation.
Just as troubling is the average $660 weekly wages for transit and ground passenger transportation jobs. This includes trucking, for which our attorneys have brought lawsuits against parent companies for negligence and insufficient training.
What are the most dangerous jobs in Michigan with the lowest pay?
This chart reports Michigan's rates of nonfatal occupational injuries and illnesses by industry, with average wages, for 2015, the most recent figures available.
| Rank | Profession | Injuries for Every 100 Workers | Average Annual Wage |
| --- | --- | --- | --- |
| 1 | Nursing and residential care facilities* | 11.9 | $25,500 |
| 2 | Wood product manufacturing | 10.0 | $27,140 |
| 3 | Architectural and structural metals manufacturing | 9.7 | $36,810 |
| 4 | Health care and social assistance | 9.3 | $53,940 |
| 5 | Utilities | 8.1 | $40,740 |
| 6 | Hospitals | 7.9 | $53,710 |
| 7 | Transit and ground passenger transportation | 7.0 | $34,360 |
| 8 | Construction | 6.8 | $37,750 |
| 9 | Motor vehicle body and trailer manufacturing* | 6.7 | $53,750 |
| 10 | Water, sewage and other systems | 6.4 | $46,740 |
*Wage figure not available for Michigan, taken from national occupational employment and wage estimates
Sources: Michigan Department of Licensing and Regulatory Affairs, U.S. Bureau of Labor Statistics
Have we misplaced value for people who work dangerous jobs?
The question that this data raises is a matter of value. Do we not value those risking life and limb for their communities? Who is to say a computer systems designer is worth $568 more in weekly wages than a hospital staff member? Or that a security and commodities trader's value is $1,592 more than a commercial truck driver?
Moreover, traders and developers alike sit in buildings with steel supports manufactured by hardworking Americans in metal manufacturing facilities. A trader is likely trading securities for a company that would not be profitable without having drivers to transport products in a timely manner.
The most dangerous jobs in the state play a pivotal role in our economy, so why are they paid a lower rate than the state average? The market values knowledge, but that value may be misplaced.
Grit holds value to dangerous jobs
In our economic system, a person's level of education is often falsely perceived as their level of worth — the idea being that a learned individual possesses the skills and know-how to perform tasks that others do not. However, individuals in high-risk jobs possess specific characteristics and skills to perform those tasks that others do not have.
Getting up every day to work at a job with a high level of danger is not for the faint of heart-hearted. Could you imagine scaling towers as tall as 1,500 feet to perform maintenance work? It takes a special kind of person to be comfortable with performing tasks under the pressures of a dangerous work environment. These individuals possess a level of confidence, perseverance and attention to detail that should warrant adequate levels of pay.
The bottom line for dangerous jobs
It's unjust that so many industry workers earn below-average pay while sustaining above average injury rates. While it shouldn't be the only factor, Michigan workers should be properly compensated for the inherent level of risk their job possesses.
Until that happens, you may want to consider careers such as like finance, insurance, science and tech, which offer high pay with minimal risk of injury.