Michigan workers comp lawyer explains how your choice of doctor can make or break your claim for benefits.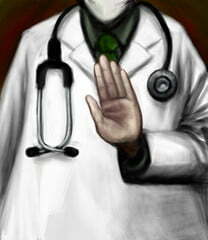 Access to medical care is one of the most important benefits under workers comp. There is a big fight going on in Lansing about who gets to pick the doctor when a person is injured at work. Employers and insurance companies want to control this selection so that they can reduce medical costs and manipulate work restrictions.
You have the right to select your own doctor after 28 days. Be careful treating with doctors recommended by your employer or the insurance company because of a potential conflict of interest. If your workers comp benefits are ever disputed, you will need a doctor who will be on your side.
How you prove a workers comp case in Michigan
You must have medical evidence to prove that your injury is work-related and that you are currently disabled from work. This can only be done through the deposition of a medical expert. The best medical testimony comes from your own treating doctor.
Most doctors charge between $800.00 and $2,500.00 per hour for a medical deposition. An experienced workers comp lawyer will advance this cost until you recover a settlement or award.
Injured workers are routinely sent to independent medical examinations. There is nothing "independent" about these medical examinations as the doctor is selected and paid for by the employer or insurance company. Don't count on the independent medical examination to prove your workers comp case as it will most likely be used against you.
A Michigan workers comp lawyer can help
You should never wait until your benefits have been stopped to speak with an experienced workers comp lawyer. Get help with minor issues before they turn into major problems. The advice is free and there is no charge unless you recover additional workers comp benefits.
To speak with one of our experienced workers comp lawyers, call (855) 221-2667 for a free telephone consultation. We will make sure that your legal rights are protected and that you receive the maximum compensation under the workers comp law.
– Alex Berman is the founder of Michigan Workers Comp Lawyers. He's been representing injured and disabled workers exclusively for more than 35 years.  Alex has helped countless people obtain workers compensation benefits and never charges a fee to evaluate a case.
Related information:
FAQs about workers compensation to help protect you
Injured On The Job: A Guide to Michigan Workers' Compensation Law
– Photo courtesy of Creative Commons, by Truthout.org.
11/01/2011