Michigan workers compensation lawyer gives an update on how these legislative changes are affecting real people who are injured at work.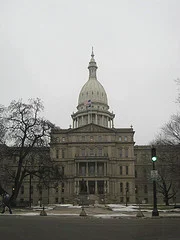 Governor Snyder signed House Bill 5002 on December 19, 2011. This legislation brings major changes to workers compensation.
Since this legislation was rushed through by special interest groups, it is no surprise that more people are finding their workers compensation benefits cut-off.
Here is what we are seeing happen to real people who are injured on-the-job.
Imaginary wages
The most controversial change to the workers compensation law was giving insurance companies the authority to offset wage loss benefits if they determine that a person is only partially disabled. This is based upon the disabled person's "wage earning capacity" which is their ability to find other work.
The problem is that it does not matter whether a disabled person is actually working or earning other wages. The insurance company can say that a disabled person has a wage earning capacity solely based upon their own opinion. The burden is then on the disabled person to file a workers compensation case and prove entitlement to full wage loss benefits.
Just 17 days after House Bill 5002 was signed and we already have a client whose wage loss benefits were stopped based upon imaginary wages. The insurance company felt that she could do another job that would pay her the same money. Our client now finds herself in the position of being disabled from her job and not being able to find another. She has no wage loss benefits and her family is struggling.
Fired for fault
Another controversial change allows an insurance company to stop the payment of wage loss benefits if a person is terminated for their own "fault." This means that workers compensation can be stopped simply because a person inadvertently violated a company rule or policy.
We have a client from Garden City, MI who got fired for getting hurt at work. His employer said that he was negligent in the operation of a machine and they would not bring him back with restrictions. The insurance company then cut-off his benefits saying that his wage loss was now attributable to him being fired. This is truly an absurd result considering that workers compensation is designed as a no-fault system.
28 days later …
House Bill 5002 also lengthens the amount of time that an employer or insurance company has to select your medical providers. A person must now wait 28 days from the start of medical care to choose his or her  own doctor or get a second opinion. This is a huge problem for people who are misdiagnosed and are not getting proper medical treatment.
Why you need a workers compensation lawyer in Michigan
All of these workers compensation changes were designed to help big corporations and insurance companies. You should always challenge an unfair decision that reduces or eliminates workers compensation benefits.
To speak with one of our workers compensation lawyers in Michigan, call (855) 221-2667 for a free consultation. There is never a fee unless you receive additional workers compensation benefits or a settlement.
– Alex Berman is the founder of Michigan Workers Comp Lawyers. He's been representing injured and disabled workers exclusively for more than 35 years.  Alex has helped countless people obtain workers compensation benefits and never charges a fee to evaluate a case.
Related information:
Video: Warning! New work comp law reduces benefits for injured workers in Michigan
Contact our Michigan workers comp lawyers
– Photo courtesy of Creative Commons, betsyweber.
03/01/2012