Michigan workers compensation attorney explains how horseplay could result in a denial of your benefits and what you can do to protect yourself.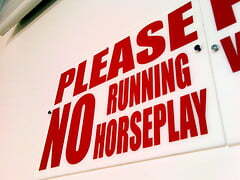 If you have spent any time working with other people then you know a little horseplay is part of almost every job. Whether it's just noisy behavior or actual physical play, it could affect your entitlement to workers compensation benefits.
Horseplay can be a good thing for employers because it can reduce stress in the work place and promote a better working relationship among co-workers.
Unfortunately, employers and insurance companies look for any reason to deny a valid workers compensation claim. This includes blaming your injury on horseplay.
Here is some information about Michigan workers compensation law that you should know.
No-fault system
Michigan's workers compensation system is a no-fault. This means that you do not have to show that your employer was at fault to get benefits. All you need to do is show that you were hurt at work.
You are entitled to receive reasonable and necessary medical treatment under workers compensation. You are also entitled to cash payments for lost wages if you are disabled from working.
Horseplay and workers compensation
Michigan law recognizes that a certain amount of horseplay is normal and expected in a work environment. In general, you will not lose the protection of workers compensation just because you were hurt while kidding around. The courts have recognized that horseplay can be legitimately related to the stresses and tensions of work.
However, it is important to understand that every situation is different and it is possible to be disqualified from workers compensation under certain circumstances. For example, when the horseplay exceeds acceptable bounds of your employment.
You may also lose your workers compensation benefits if your company has a strict policy against horseplay or your actions result in you being fired.
Bottom line about your workers compensation benefits
The bottom line is that employers and insurance companies dispute workers compensation claims for all kinds of reasons. If you are injured at work through horseplay, expect that your workers compensation benefits will be denied. Even if the horseplay is not started by you!
To speak with one of our workers compensation attorneys in Michigan, call (855) 221-2667  for a free telephone consultation. We will fight to make sure that you receive all the benefits that you deserve.
– Alex Berman is the founder of Michigan Workers Comp Lawyers. He's been representing injured and disabled workers exclusively for more than 35 years.  Alex has helped countless people obtain workers compensation benefits and never charges a fee to evaluate a case.
Related information:
Video: Injured at work? Advice from a Michigan workers comp lawyer
Contact our Michigan workers comp lawyers
– Photo courtesy of Creative Commons, by Satish Krishnamurthy.
05/01/2012