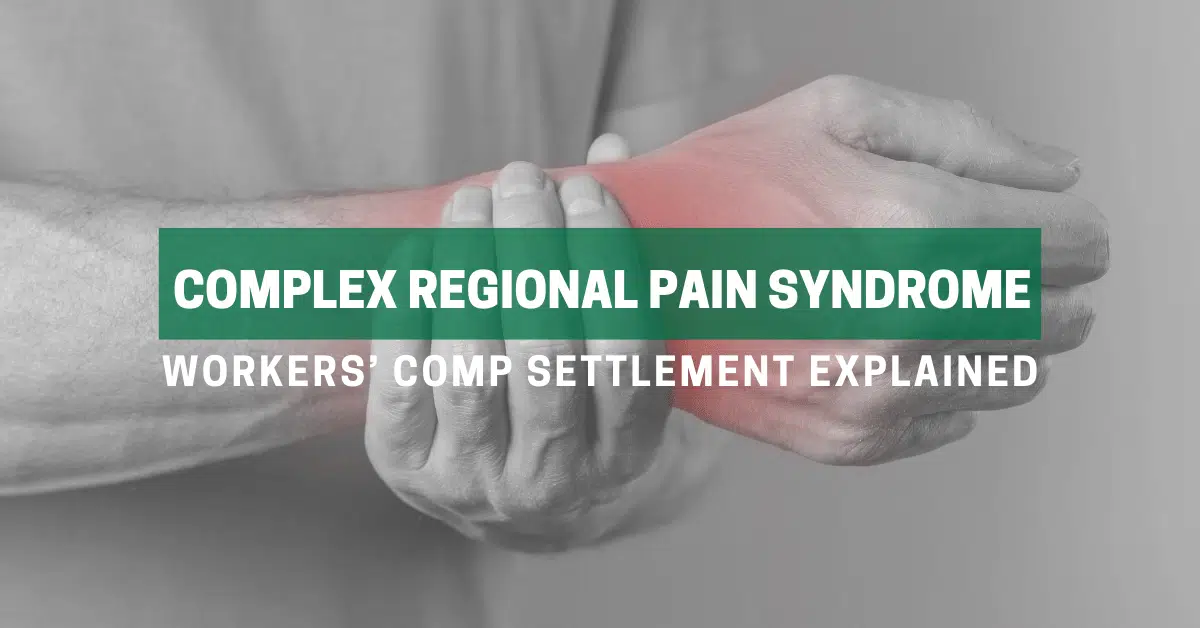 Michigan workers' comp lawyer discusses complex regional pain syndrome (CRPS) and why this medical condition is often disputed by insurance companies.
We have represented lots of employees hurt on-the-job who are later diagnosed with complex regional pain syndrome. It can develop from a physical trauma like a crush, fracture, or amputation. Sometimes a relatively minor injury like a sprained ankle can result in this diagnosis. Here is what employees need to know about complex regional pain syndrome workers' comp settlement in Michigan.
Complex regional pain syndrome is not fully understood, and the diagnosis can be somewhat controversial. Pain is typically out of proportion to the severity of the initial injury and symptoms can last for years. Diagnosis is typically based upon physical examination and sympathetic nervous system tests. Commons signs include swelling, sensitivity to touch, changes in skin color or temperature, sweating changes, motor dysfunction. Some physicians use the Budapest Criteria as a set of guidelines. Atrophy (tissue wasting) of the affected body part can also occur if a person avoids using the affected limb.
Treatments include prescription medications, topical analgesics, physical therapy, spinal cord stimulation, and use of a TENS unit. Amputation of the limb is sometimes recommended in severe cases. Many of our clients also have an emotional reaction and require psychological counseling. A complex regional pain syndrome workers' comp settlement in Michigan should only be handled by a professional.
Available workers' compensation benefits
Individuals suffering from complex regional pain syndrome should get all their medical treatment paid. They should never have out-of-pocket costs. Medical treatment is a lifetime benefit. This includes items like attendant care, home or vehicle modifications, and prosthesis. Lost wages should also be paid.
A complex regional pain syndrome workers' comp settlement in Michigan should include money for wage loss benefits. This is based upon 80% of a person's after-tax average weekly wage. Lost wages include money for overtime, discontinued fringe benefits, and even second jobs that cannot be done anymore. This is tax-free money.
What is the average workers' comp settlement for a complex regional pain syndrome case?
There isn't a specified average workers' comp settlement amount for complex regional pain syndrome cases in Michigan. Statistics published by the Michigan Workers' Disability Compensation Agency show the average settlement amount for 2021 was $63,313.86. Our clients who are diagnosed with complex regional pain syndrome get much more when medical evidence shows the need for additional treatment and extended time off from work.
A diagnosis of complex regional pain syndrome is often challenged by insurance companies because of the potential for a massive payout. Watch out for so-called "independent" medical examinations that are used to dispute payment of benefits. These doctors make careers out of testifying against disabled employees.
A complex regional pain syndrome workers' comp settlement in Michigan is a good idea when medical is relatively stable. Most of our clients want to settle and get a lump sum cash payment so they can go back to living their lives. This allows them freedom to do their own medical treatment or get a new job without interference by the insurance company.
Need help? Contact our workman's comp lawyers for a free consultation
To speak with an experienced Michigan work injury attorney about your complex regional pain syndrome workers' comp settlement, call us now, or fill out our contact form for a free consultation. There is absolutely no cost or obligation. We're here for you.
Our attorneys have been exclusively helping injured workers in Michigan for more than 35 years and can help you better understand Michigan workman's comp laws and explain what happens if you or a loved one has been hurt on the job. To see what our own clients have to say about the caring, compassion, and communication they received from us, you can read in their own words about their experience here on our testimonials page from clients we have helped.
Michigan Workers Comp Lawyers never charges a fee to evaluate a potential case. Our law firm has represented injured and disabled workers exclusively for more than 35 years. Call (844) 316-8033 for a free consultation today.
Related information:
What Not To Do While On Workers' Comp: Avoid These Mistakes