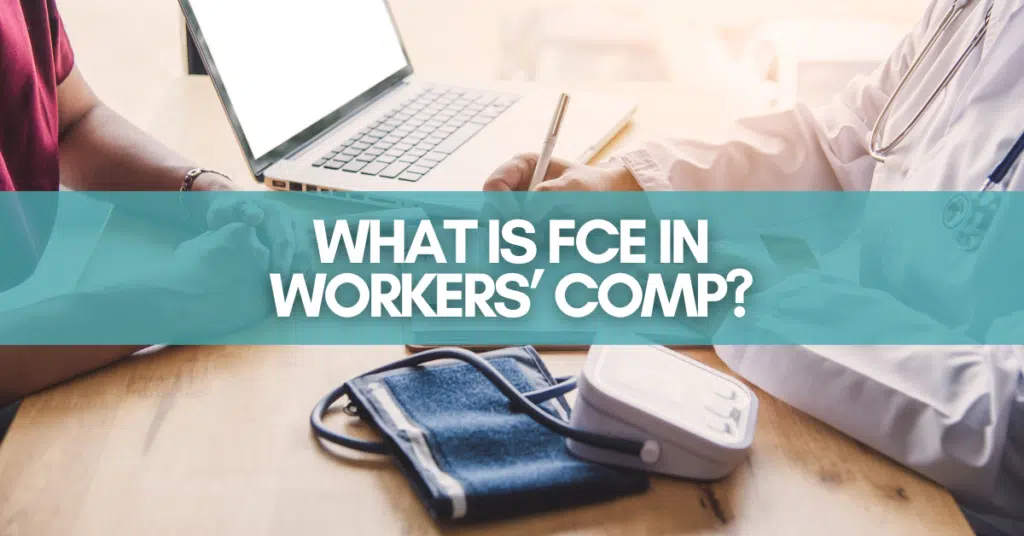 Michigan attorney explains how restrictions can impact a workers' comp claim.
Most people have never thought about getting hurt on-the-job and it can be a great shock to them when they learn about the process. This is especially true when an insurance company fails to explain legal rights and just sends people to various appointments. Technical jargon like functional capacity evaluation (FCE) gets thrown around without much explanation. According to Michigan workers' comp what does FCE even mean?
What is FCE in workers' comp in Michigan?
According to Michigan workers' comp law, functional capacity evaluation (FCE) is an assessment of an individual's ability to perform work activities. It is used to determine restrictions after a workplace injury. It is common for the FCE to say a person can work at the sedentary, light, medium, or heavy exertional levels. This is important because it impacts return to work efforts and wage loss benefits.
What is a FCE exam in workers' comp in Michigan?
According to Michigan workers' comp law, think of the FCE exam as a supplement to the medical file. It is used by physicians to establish restrictions. This is important because it shows what types of jobs that a person could perform despite any physical limitations. It is usually an all-day process that requires maximum effort.
The FCE typically includes a client interview, musculoskeletal screening, and functional testing. Activities such as walking, balancing, reaching, stooping, kneeling, crouching, crawling, object handling/manipulation, fingering, hand grasping, lifting, carrying, pushing, and pulling will be tested. Positional tolerance such as sitting and standing will also be considered. Pain monitoring during various activities is essential.
What happens after a functional capacity evaluation in Michigan?
In Michigan, insurance companies typically use the workers' comp FCE exam to see if an employee can return to work under restrictions. Insurance companies do not have to pay wage loss benefits if an employee is able to perform light duty. This is usually the time that an employee gets back to work or is offered a settlement.
Be cautious of insurance companies who use the functional capacity evaluation instead of a treating doctor to establish restrictions. Unfortunately, this one-day test is not always an accurate assessment of a person's physical capabilities. Disagreement about restrictions can lead to a dispute regarding payment of wage loss benefits.
Is a settlement in a Michigan workers' comp case determined by functional capacity evaluation?
In Michigan, the FCE is important to a workers' comp settlement because it sets the restrictions. Insurance companies pay settlements based upon their exposure, which is how much money they believe must be paid in the future. Restrictions show if a person can work or not.
We tell our clients to watch out for the functional capacity evaluation when it has been scheduled by the insurance company. It is a much better strategy to get work restrictions directly from the treating physician. This ensures a fair assessment of a person's ability to find alternate employment. If a person can work according to the functional capacity evaluation, there is not much incentive for the insurance company to pay a substantial settlement.
Injured while on-the-job in Michigan? Contact our lawyers now
If you were injured while on the job in Michigan and you have questions about your functional capacity evaluation (FCE) or any other questions regarding your workers' comp claim, call now or fill out our contact form for a free consultation. There is absolutely no cost or obligation. Our attorneys are here for you.
Our attorneys have been exclusively helping injured workers in Michigan for more than 35 years. Our attorneys can help you better understand Michigan work injury laws and what happens after someone has been hurt on the job. To see what our own clients have to say about the caring, compassion, and communication they received from us, you can read in their own words about their experience here on our testimonials page from clients we have helped.
Michigan Workers Comp Lawyers never charges a fee to evaluate a potential case. Our law firm has represented injured and disabled workers exclusively for more than 35 years. Call (844) 345-0952 for a free consultation today.
Related information:
Does Having Multiple Surgeries Increase A Workers' Comp Settlement?