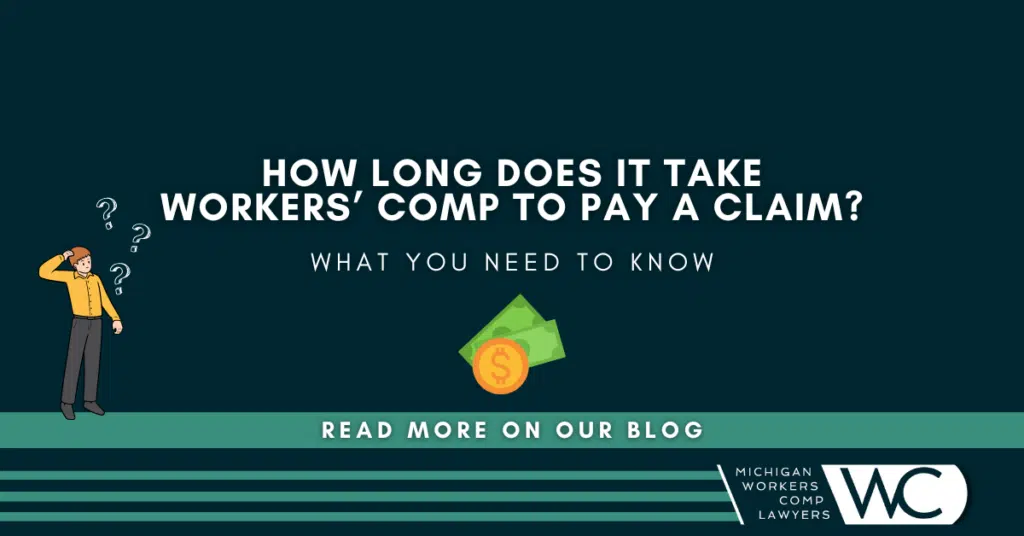 Michigan lawyer explains when to expect payment from workers' comp and how you can speed up the process.
Many of our clients live paycheck-to-paycheck and missing even 1 week of pay can be a financial disaster. We understand the stress and worry that goes along with getting hurt on-the-job. A question we get asked by potential clients is how long does it take workers' comp to pay a claim in Michigan? It can take weeks depending upon whether the responsible party has the necessary documentation. WDCA rules say payment of benefits should commence within 14 days. Unfortunately, insurance companies find ways to delay payment.
How long does it take workers' comp to pay in Michigan?
In Michigan, it can take days or weeks to process a workers' comp claim, and this can slow down the timeframe in which they pay benefits for the claim. Generally, a person should receive their first weekly check on day 14. Settlements are paid after a 15 day appeal period runs and come 7-10 days later.
Weekly checks
Individuals who are disabled from working because of an on-the-job accident are entitled to get wage loss benefits. The amount paid should equal 80% of a person's after-tax average weekly wage. This includes money for overtime, discontinued fringe benefits, and even second jobs.
In Michigan, injured employees do not get paid workers' comp wage loss benefits for the first 7 days. After a week of entitlement, they should receive their first check on the 14th day. Statistics published by the Agency in its 2021 Pay Lag Report shows group funds take an average of 25 days to start payment, self-insureds take an average of 28 days, and insurance carriers take 19 days. Make sure the responsible party has all necessary documentation to start payment on time.
Settlement
All settlements must be approved by a magistrate at a redemption hearing. The magistrate is going to make sure legal rights have been explained and is just and proper under the circumstances. This process usually takes a few weeks to schedule once the redemption documents have been completed.
In Michigan, after the magistrate approves the workers' comp settlement amount it doesn not get paid until the appeal period ends. The appeal period is a 15 day period after the magistrate approves the settlement. Either side can ask to have it set aside during the 15 days for good cause or some other legal reason. Changing your mind is not considered good cause. Our experience shows that a settlement check will be mailed approximately 7-10 days after the appeal period ends.
It is possible to waive this 15 day appeal period with permission from both sides. The director or his designate will conduct a telephone hearing and approve or deny the waiver. If this happens you will get paid sooner as a Michigan workers' comp settlement check should be cut immediately following a waiver hearing and received by the client within about 1 week.
Need help? Contact our work injury lawyers now
If you were injured while on the job in Michigan and have questions about a potential workers' comp settlement and are wondering how much and when you will get paid, call now or fill out our contact form for a free consultation. There is absolutely no cost or obligation. Our attorneys are here for you.
Our attorneys have been exclusively helping injured workers in Michigan for more than 35 years. Our attorneys can help you better understand Michigan work injury laws and what happens after someone has been hurt on the job. To see what our own clients have to say about the caring, compassion, and communication they received from us, you can read in their own words about their experience here on our testimonials page from clients we have helped.
Michigan Workers Comp Lawyers never charges a fee to evaluate a potential case. Our law firm has represented injured and disabled workers exclusively for more than 35 years. Call (844) 316-8033 for a free consultation today.
Related information: