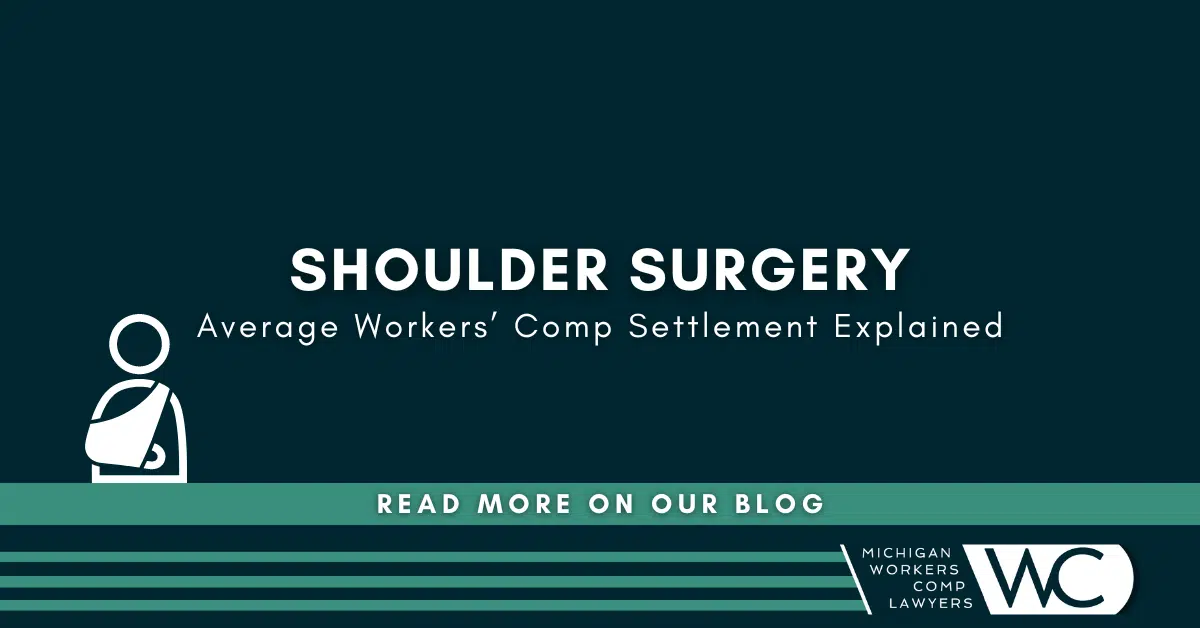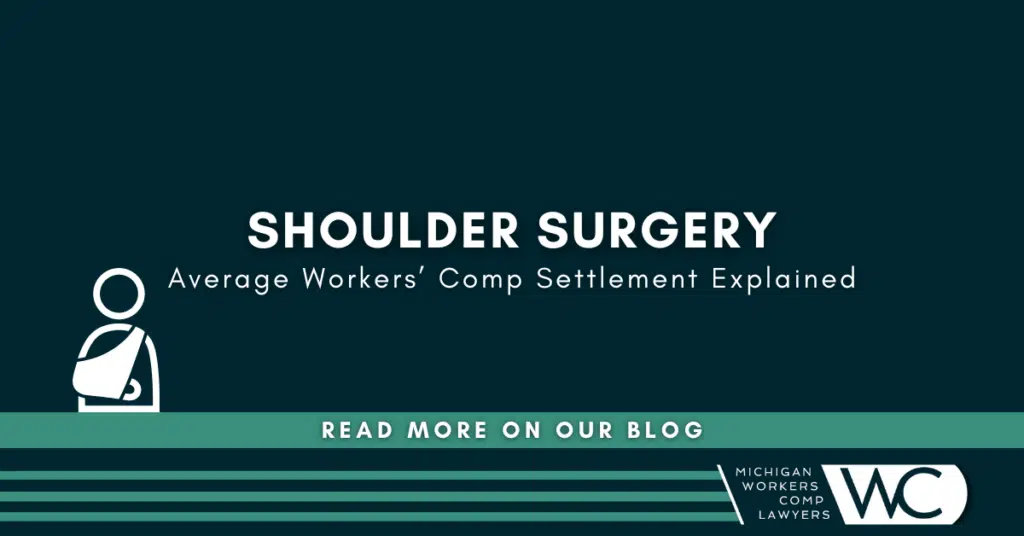 Michigan attorney explains the average workers' comp settlement for shoulder surgery and how to make sure you are not leaving money on the table.
Many of the individuals who contact our office are suffering from a workplace shoulder injury. It is common to see rotator cuff tears and other problems that need surgery. They want to know about lost wages and access to medical treatment. These conversations eventually lead to a discussion about settlement. It can be difficult to assign a value without seeing how they recover from surgery. Here are some guidelines regarding the average workers' comp settlement for shoulder surgery in Michigan.
Insurance companies do not want to overpay to resolve a workers' comp claim. Settlement is going to depend upon their potential exposure. This is the amount of money they anticipate having to pay for medical, vocational rehabilitation, and lost wages. There is no pain and suffering in workers' comp.
Every claim for workers' comp is different, and it is hard to assign value without knowing how surgery turns out. Some people recover quickly and return to their jobs. Others find themselves with permanent restrictions and need to find a new career. In general, the average workers' comp settlement for shoulder surgery is going to depend upon future medical needs and disability. We tell our client that a good rule of thumb is to get enough money to cover several years of wage loss benefits.
What is the average workers' comp settlement for shoulder surgery in Michigan?
There isn't a specified average workers' comp settlement amount for a workers' comp shoulder surgery claim in Michigan. Statistics published by the WDCA show the average settlement amount for a work injury claim Michigan for 2021 was $63,313.86. Our clients get more when evidence shows need for medical treatment and extended time off from work. It is critical to make sure that any surgeon will support medical causation and disability.
Insurance companies will look at age, medical costs, and extent of disability to calculate the amount they will pay you for your settlement. Other factors include how much a person earned at their job and potential transferable skills.
Insurance companies go out of their way to reduce what needs to be paid for a work injury claim. They use nurse case managers to cut corners with medical treatment and change work restrictions. It is also very common for a person to be sent to a so-called "independent" medical examination for a second opinion. These doctors make careers out of writing reports against people hurt on-the-job.
It is no secret that having an experienced attorney on your side is going to result in a larger payout. Insurance companies only take people seriously when they know their legal rights. In Michigan, you will get more than average workers' comp settlement for your shoulder surgery claim when medical and vocational evidence is properly developed. A person cannot rely upon common sense to make this argument.
Need help with your claim? Call our attorneys now
If you suffered a shoulder injury while on the job in Michigan and need surgery and have questions about your workers' comp claim or settlement, call now or fill out our contact form for a free consultation. There is absolutely no cost or obligation. Our attorneys are here for you.
Our attorneys have been exclusively helping injured workers in Michigan for more than 35 years. Our attorneys can help you better understand Michigan work injury laws and what happens after someone has been hurt on the job. To see what our own clients have to say about the caring, compassion, and communication they received from us, you can read in their own words about their experience here on our testimonials page from clients we have helped.
Michigan Workers Comp Lawyers never charges a fee to evaluate a potential case. Our law firm has represented injured and disabled workers exclusively for more than 35 years. Call (844) 316-8033 for a free consultation today.
Related information: