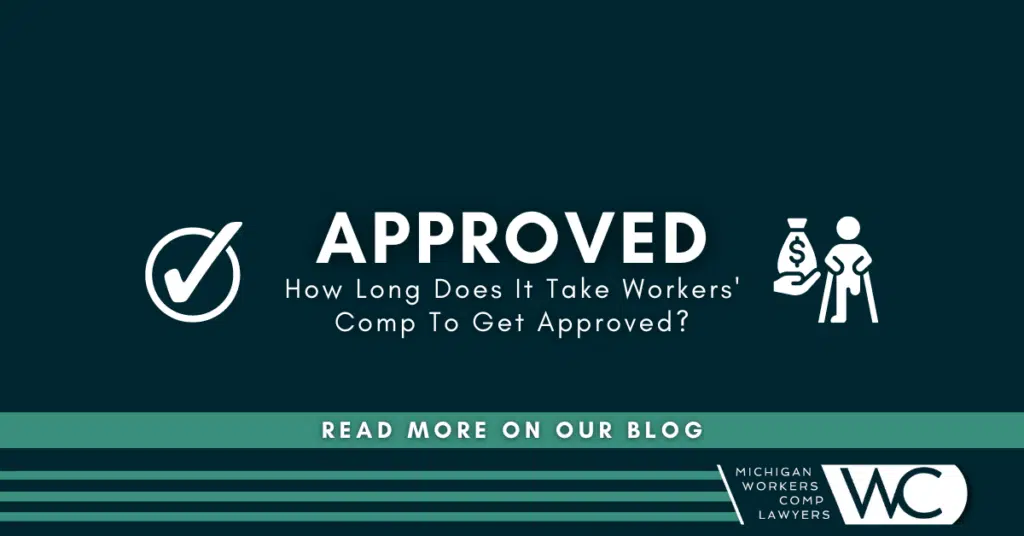 Michigan lawyer explains various steps that an employee must go through to get his or her workers' comp claim approved.
We understand how tough it can be for an employee who is hurt on-the-job. It is extremely stressful not knowing if an employer or insurance company will do the right thing. Many clients ask us how long does it take to a get workers' comp claim approved in Michigan? Statistics published by the WDCA show claims are paid within 24 days. However, it can be much longer if something goes wrong.
There is nothing more frustrating than waiting for a claim to be approved. Many of our clients are suffering without income for medical treatment. It can take days, weeks, or even months before a claim is approved. Here is some information about the process and ways to speed things up.
How long does it take to get workers' comp claim approved in Michigan?
In Michigan, statistics published by the WDCA show workers' comp claims are approved and paid within 24 days. Employees who are hurt on-the-job are entitled to medical treatment and lost wages. There is no waiting period for medical treatment. Lost wages begin after 7 days of disability. We tell people to expect a check approximately 2 weeks later.
Mandatory 7-day waiting period
There is a minimum 7-day waiting period for wage loss benefits to commence. A check is supposed to be sent by the 14th day. However, statistics from the 2021 Pay Lag Report show it can take on average of 24 days for payments to start. We recommend contacting the insurance carrier and making sure they have wage records to calculate the rate as this is often a cause of delay.
Employer conference and recorded statement
Insurance companies routinely speak with employers before making any claim decisions. It is also possible that a recorded statement will be needed. They want to make sure that a claim is 100% valid before authorizing medical treatment or sending out any money. It can take weeks or even months for a Michigan workers' comp claim to be approved when the employer refuses to cooperate with the investigation. We recommend speaking with an attorney should this occur.
Medical record review
Insurance companies typically review medical records before authorizing payment. They are checking the diagnosis, restrictions, and whether it is work-related. Unnecessary delays occur when the doctor's office does not provide requested information. We recommend speaking with the claims adjuster and finding out what medical is missing so that it can be provided.
Independent medical examination (IME)
Watch out for insurance companies who want an IME before anything gets approved under Michigan workers' comp. These doctors are handpicked by insurance companies and the goal is to dispute claims. It is very important to speak with an experienced attorney should you be scheduled for an IME.
Have questions? Call our attorneys now!
If you are injured on the job in Michigan and have questions on how long it takes for workers' comp to get approved, call now or fill out our contact form for a free consultation. There is absolutely no cost or obligation. Our attorneys are here for you.
Our attorneys have been exclusively helping injured workers in Michigan for more than 35 years. Our attorneys can help you better understand Michigan work injury laws and what happens after someone has been hurt on the job. To see what our own clients have to say about the caring, compassion, and communication they received from us, you can read in their own words about their experience here on our testimonials page from clients we have helped.
Michigan Workers Comp Lawyers never charges a fee to evaluate a potential case. Our law firm has represented injured and disabled workers exclusively for more than 35 years. Call (844) 316-8033 for a free consultation today.
Related information: