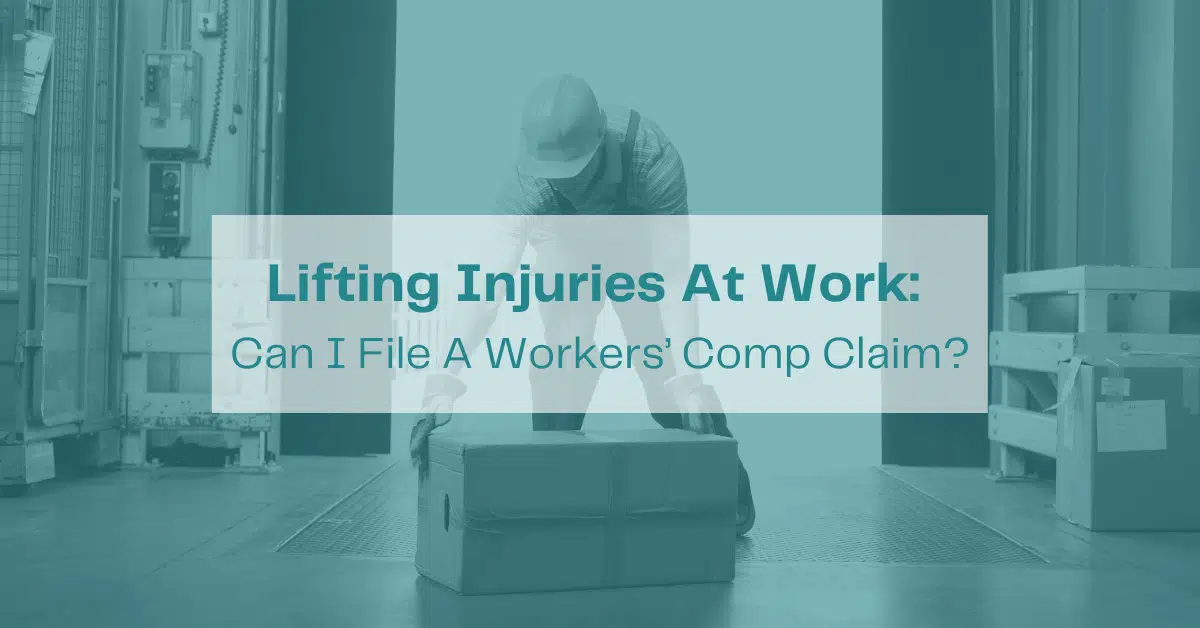 Michigan workers' comp lawyer discusses a lifting injury and what is available if an employee gets hurt on-the-job.
Our experience shows that lifting injuries at work are very common in all types of industries. It does not even have to be a heavy item to cause a big problem. Bending and twisting while lifting an item can result in a herniated disc. These types of on-the-job injuries can be devastating if they result in surgery and permanent restrictions. Here is some information about lifting injuries at work and what is available if an employee gets hurt on-the-job.
What types of injuries are caused by lifting at work?
Many people lift heavy items as part of their regular duties. It is important to practice safe lifting techniques so that an injury does not occur. We see individuals who suffer back injuries when pushing, pulling, bending, or lifting an item. Other parts of the body can also be affected including wrists and elbows.
Common diagnoses include pulled muscle, back strain, fractured vertebrae, herniated disc, slipped disc, ruptured disc, annular tear, pinched nerve, and radiculopathy. Nerve pain can travel down the leg causing numbness and tingling. A surgical procedure such as a laminectomy, discectomy, or fusion might be required. Many people are given restrictions and not allowed to return to their jobs.
What happens if an employee gets hurt on-the-job from a lifting injury?
We know how difficult it can be for an employee hurt on-the-job. This is especially true after lifting injuries at work. It can result in surgery and permanent restrictions. Chronic pain can interfere with a person's ability to do their job and even live a normal life. Medical and lost wages should be covered under workers' comp.
Michigan workers' comp law protects employees who are hurt on-the-job. It covers medical treatment without any copayments or deductibles being owed. This includes surgery and attendant care. Employees who are unable to work should also be paid wage loss benefits. The amount equals 80% of their after-tax average weekly wage, subject to a state-wide maximum. This calculation includes money for overtime, discontinued fringe benefits, and even second jobs that can no longer be performed.
Average settlement for lifting injuries at work
The amount paid for settlement will be different for everyone. However, statistics published by the Workers' Disability Compensation Agency show an average of $59,235.42. Many employees who suffer lifting injuries at work get more when medical evidence shows a need for ongoing treatment and continuing disability.
Insurance companies know the value of claims and they don't want to overpay. We recommend speaking with an experienced workers' comp lawyer to find out the value of an individual claim. Many of our clients get more than an average settlement when medical and vocational evidence is properly developed.
Michigan Workers Comp Lawyers never charges a fee to evaluate a potential case. Our law firm has represented injured and disabled workers exclusively for more than 35 years. Call (844) 316-8033 for a free consultation today.
Injured while on the job in Michigan? Contact our workers' comp lawyers for a free consultation
If you suffered injuries while lifting something at work in Michigan and want to speak with an experienced attorney about your workers' comp claim, call us now, or fill out our contact form for a free consultation. There is absolutely no cost or obligation. We're here for you.
Our attorneys have been exclusively helping injured workers in Michigan for more than 35 years and can help you better understand Michigan workers' comp laws and explain what happens if you or a loved one has been hurt on the job. To see what our own clients have to say about the caring, compassion, and communication they received from us, you can read in their own words about their experience here on our testimonials page from clients we have helped.
Related information:
How Does A Workers' Comp Settlement Work?