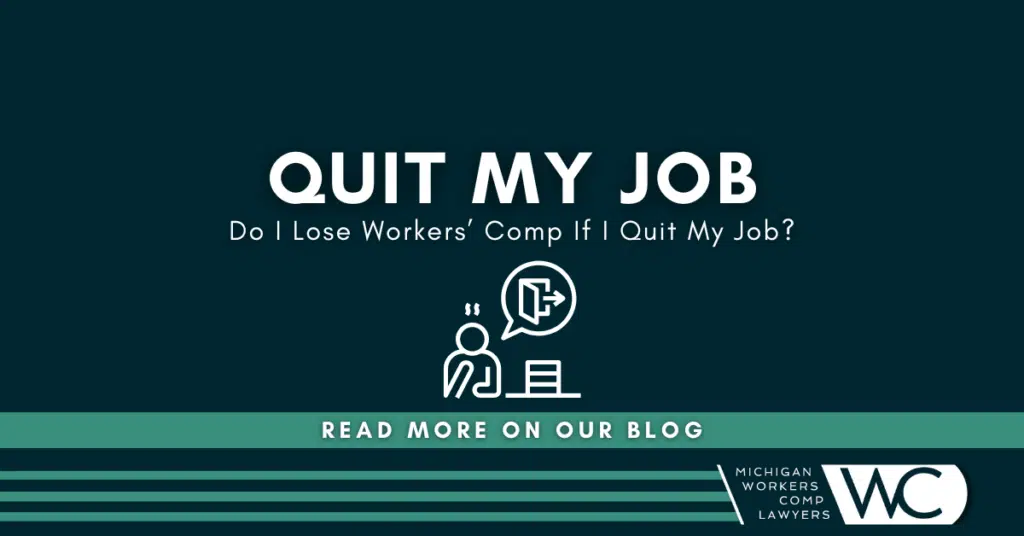 Warning to never quit your job while on Michigan workers' comp and how it can impact payment of wage loss benefits.
It can be extremely frustrating dealing with an employer and its workers' comp insurance carrier when you are hurt on-the-job. They don't have your best interests at heart and look for ways to save money at your expense. We see employees get harassed and abused all the time. A frequent question comes up: Do I lose Michigan workers' comp benefits if I quit my job? Yes, quitting can operate as a valid reason to dispute payment of wage loss benefits. Medical treatment should not be impacted.
Employees who are hurt on-the-job and cannot work are entitled to wage loss benefits. It pays 80% of their after-tax average weekly wage. This is calculated using the highest 39 paid weeks out of 52 weeks before the workplace accident occurred. Overtime, discontinued fringe benefits, and even second jobs should be included in the calculation.
Employers frequently offer "light duty" instead of wage loss benefits. The job must be within an employee's restrictions and a reasonable distance from their home. It cannot be a danger to their health and safety. However, there is no requirement that it be within a person's skills and qualifications so the job might be entry level. Do I lose workers' comp if I quit my job? Failure to accept light duty can result in a dispute regarding any wage loss benefits.
In Michigan, do I lose workers' comp if I quit my job?
In Michigan, employees who quit their job can lose out on workers' comp wage loss benefits. The idea is that an employer had a job within restrictions to offer, but the employee voluntarily took themselves out of the position. Access to medical treatment should not be impacted.
We see bad employers play games with people all the time. They are told to report to work and given a demeaning job like watching an empty parking lot or counting office supplies. The goal is to have an employee quit their job so that they lose out on additional Michigan workers' comp wage loss benefits that do not have to be paid out. Don't fall into this trap!
Even if a light duty job has not been offered by the employer, quitting can be used as a defense to future wage loss benefits. The employer will argue a light duty job would have been offered but the employee voluntarily removed himself or herself from the workplace. We have seen this argued even when it is almost impossible for the employer to have a job within a person's restrictions.
You also can lose Michigan workers' comp benefits if you quit a job that your employer has offered within restrictions. Yes, if the employer could have offered a job within restrictions. We recommend having a conversation with your doctor and asking them to take you off work based upon disability. That is a much better option to protect your legal rights. Any dispute can be challenged using medical evidence that a job could not be safely performed.
Have questions? Call our attorneys now!
If you are injured on the job in Michigan and have questions about losing workers' comp benefits for quitting your job, call now or fill out our contact form for a free consultation. There is absolutely no cost or obligation. Our attorneys are here for you.
Our attorneys have been exclusively helping injured workers in Michigan for more than 35 years. Our attorneys can help you better understand Michigan work injury laws and what happens after someone has been hurt on the job. To see what our own clients have to say about the caring, compassion, and communication they received from us, you can read in their own words about their experience here on our testimonials page from clients we have helped.
Michigan Workers Comp Lawyers never charges a fee to evaluate a potential case. Our law firm has represented injured and disabled workers exclusively for more than 35 years. Call (844) 316-8033 for a free consultation today.
Related information: