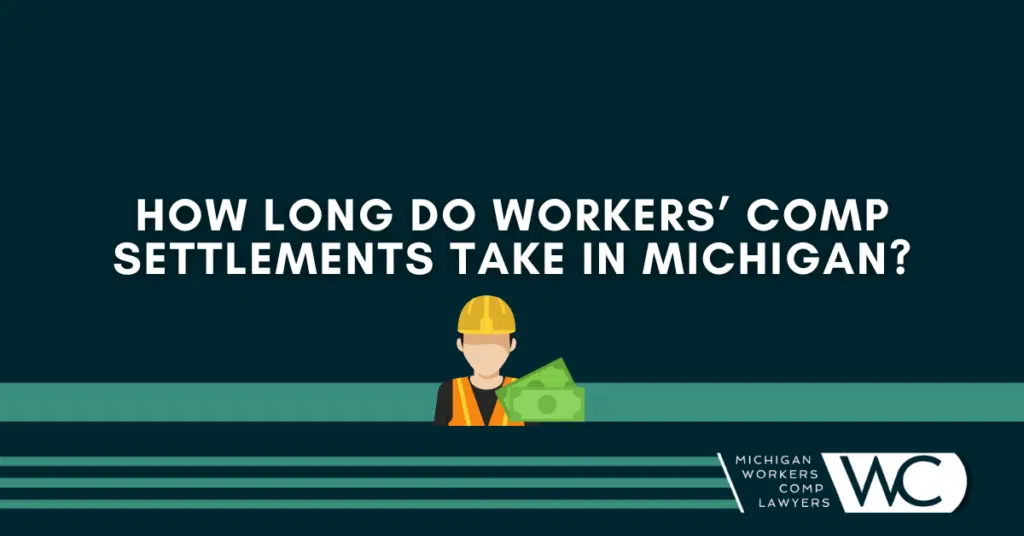 Lump sum cash payments and how long do settlements take after a work injury in Michigan?
Many of our clients want to settle and get a lump sum cash payment instead of weekly checks. This is an attractive option because it allows them to continue medical treatment and vocational rehabilitation on their own terms. There is nothing worse than being held hostage by an insurance company who will not authorize medical treatment or pay lost wages. Here is some information about how long workers' comp settlements take in Michigan and what can be expected.
Settlement money can be used for any purpose including paying off debt, starting a business, or retirement. Many of our clients simply go back to work for another employer. Please remember that negotiation can be difficult, so it is a good idea to speak with an experienced lawyer before taking any steps. Insurance companies make low-ball settlement offers to individuals who they believe to be in financial distress.
How long do workers' comp settlements take in Michigan?
In Michigan, a good estimate for how long workers comp settlements take is 12 months from the pre-trial date. Michigan law allows people to settle their workers' comp claims after 6 months from their injury date. Work injury cases that are in litigation can take additional time before settlement is possible.
Our experience is that individuals should wait until maximum medical improvement (MMI) before considering settlement. This ensures a person is medically stable and recovered enough to move on with their life.
Settlement is a big decision and understanding legal rights is key to getting the most amount of money possible.
What is the average workers' comp settlement in Michigan?
Statistics published by the Workers' Disability Compensation Agency show the average settlement amount was $62,315.56 in 2022. Most people are shocked to learn this fact because it does not seem like much money. This is especially true for individuals who will need lifetime medical treatment or permanent work restrictions.
Settlement amounts depend upon how much the insurance company believes it will need to pay out in medical and lost wages. Legal issues also play a big role when there is a dispute about medical causation or disability. We have received settlement offers that are much higher than average when substantial medical care and/or wage loss benefits are needed. Never accept a low-ball settlement offer without talking to an experienced Michigan workers' comp lawyer who can properly evaluate the claim.
What is the settlement process like in Michigan?
In Michigan, the workers' comp settlement process with the redemption hearing where it needs to be approved by a magistrate. A magistrate will need to hear basic facts about the case and review supporting medical records. There are also several complicated affidavits and forms that must be filled out. A determination will be made whether settlement is just and proper under the circumstances.
If the settlement get approved, there is a 15-day appeal period before payment. This allows either side to cancel the settlement for good cause. Changing your mind is not enough! Settlement checks are usually mailed 7-10 days after the redemption order becomes final. It is possible to waive the 15-day appeal period and get money sooner if both sides agree.
How much are attorney fees in Michigan?
Workers' comp cases are taken on contingency. This means no win no fee. Individuals on Michigan workers' comp should only pay 15% of the total settlement amount. Individuals who find their workers' comp benefits disputed will pay 20% of the first $100,000 and 15% on any remainder. Individuals who receive a voluntary payment or win at trial pay 30% of the back pay. The amount paid for attorney fees is almost always made up by settlement amounts. Make sure to speak with a lawyer who has the knowledge and skill to get the most money possible.
Need help with your claim? Our attorneys can help!
If you suffered an injury on the job in Michigan and have questions on how long a workers' comp settlement can take, call now speak with an experienced attorney, or fill out our contact form for a free consultation. There is absolutely no cost or obligation. We're here for you.
Our attorneys have been exclusively helping injured workers in Michigan for more than 35 years. Our attorneys can help you better understand Michigan laws and what happens after someone has been hurt on the job. To see what our own clients have to say about the caring, compassion, and communication they received from us, you can read in their own words about their experience here on our testimonials page from clients we have helped.
Michigan Workers Comp Lawyers never charges a fee to evaluate a potential case. Our law firm has represented injured and disabled workers exclusively for more than 35 years. Call (844) 316-8033 for a free consultation today.
Related information: