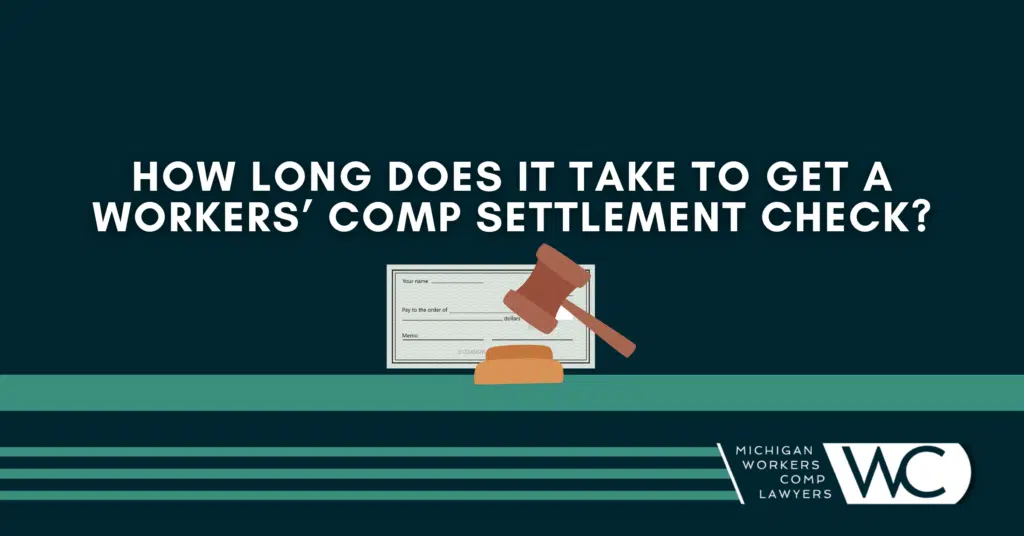 Michigan lawyer discusses how long it takes to get a workers' comp settlement check and how to maximize value.
Many of our clients eventually decide to settle their cases. Workers' comp benefits can be traded for a lump sum cash payment. This is a good option for people who want to give up the job and move on with their lives. Here is how long it takes to get a workers' comp settlement check.
Michigan workers' comp law protects employees hurt on-the-job. It pays medical bills and lost wages regardless of fault. These guaranteed workers' comp benefits continue for as long as needed. Even people who are not currently getting benefits can get a settlement check.
Settlement money can be used for any purpose including medical treatment, vocational retraining, starting a business, or just paying off debt. How much is paid depends upon future medical needs and length of disability. This money is income tax free.
How long does it take to get a workers' comp settlement check?
Determining when you get your workers' comp settlement check depends on several factors. A good estimate is 6-8 weeks from initial settlement discussions to getting a check in hand. Negotiation can take a couple days to a week. Settlement documents must be signed, and a redemption hearing scheduled with a magistrate.
Once settlement has been approved, there is a 15-day appeal period. This can be waived if both sides agree. Workers' comp settlement checks are then sent by U.S. mail and typically arrive in 7-10 days. A good estimate is 6-8 weeks from initial settlement discussions to getting a settlement check in hand.
Settlement can be a longer process if negotiations are slow or there are legal issues that must be resolved first. Delays happen when a Medicare Set-Aside must be prepared and/or submitted. Medical liens and unpaid bills can also add significant time. Our experience shows that once an amount has been agreed to between the parties, it goes much faster.
How to negotiate more money for settlement?
Getting your workers' comp settlement check is only part of the battle. Our job as workers' comp lawyers is to get disabled employees the most amount of money possible. We use our knowledge and skills to show the maximum value in each case.
Insurance companies treat settlements like business decisions and will not overpay. Insurance companies exploit financial distress with low-ball settlement offers. The way to negotiate a fair settlement is by showing how medical evidence supports disability.
This is not easy because common sense does not apply to Michigan workers' comp law. Medical and vocational evidence must be developed in accordance with the rules of evidence. Having a lawyer evens the playing field and lets the insurance company know you are serious. An experienced workers' comp lawyer can easily make up his or her fees through a larger settlement amount.
Do redemption hearings affect when I will get my workers' comp settlement check?
Employees must wait at least 6 months from their injury date before settlement. This is a requirement under Michigan law to ensure someone is medically stable. All settlements must be approved at a redemption hearing. A magistrate will hear facts about the case and review medical evidence. He or she will determine whether settlement is in the employee's best interest. Our experience is that redemption hearings can be scheduled early and walked into the courtroom weeks before a scheduled hearing date.
Can I appeal my settlement?
Settlement does not become final for 15 days. During this appeal period, it can be set aside for good cause or another legal reason. Changing your mind is not a good cause. Employees can request a waiver of the 15 day appeal period and get the settlement check much faster. Both sides must agree for settlement to become final immediately.
How are settlement checks mailed?
Settlement checks are typically sent via regular mail to your home address. It is possible to request mailing to another address or even an attorney office. Delays happen when settlement checks sit on a desk at the insurance company waiting for a signature. If you didn't get your workers' comp settlement check within 2 weeks of it being due, we recommend following up with the insurance company.
Injured on the job in Michigan? Call now, our attorneys can help!
If you were injured on the job in Michigan and have questions on how long it takes to get a workers' comp settlement check and need help with your claim, call now to speak with an experienced attorney, or fill out our contact form for a free consultation. There is absolutely no cost or obligation. We're here for you.
Our attorneys have been exclusively helping injured workers in Michigan for more than 35 years. Our attorneys can help you better understand Michigan laws and what happens after someone has been hurt on the job. To see what our own clients have to say about the caring, compassion, and communication they received from us, you can read in their own words about their experience here on our testimonials page from clients we have helped.
Michigan Workers Comp Lawyers never charges a fee to evaluate a potential case. Our law firm has represented injured and disabled workers exclusively for more than 35 years. Call (844) 316-8033 for a free consultation today.
Related information: