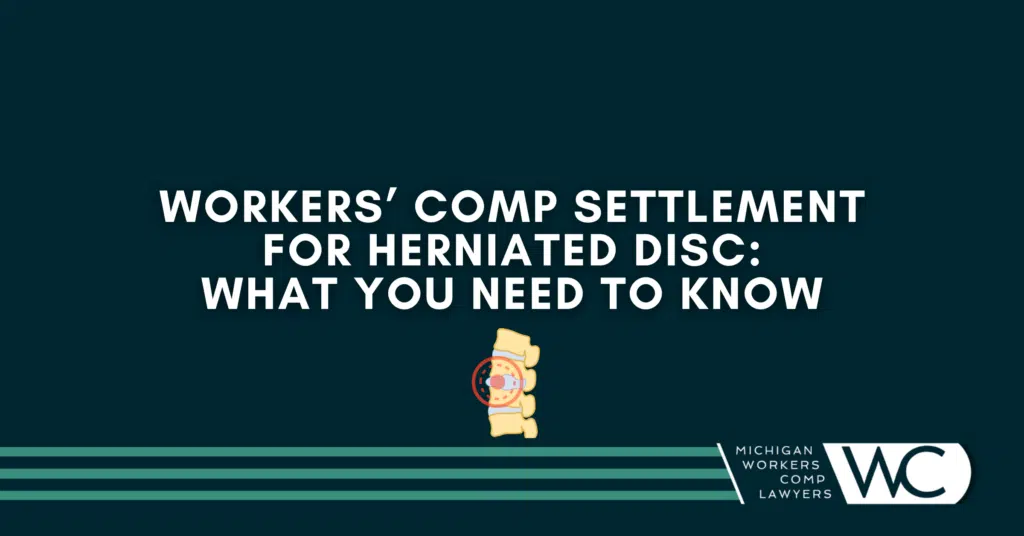 Michigan lawyer discusses a workers' comp settlement for a herniated disc and why insurance companies fight these expensive claims.
Employees hurt on-the-job are protected under Michigan's workman's comp law. It guarantees medical bills and lost wages get paid while a person is unable to work. Unfortunately, insurance companies look for any excuse to dispute expensive claims. Here is some information about a workers' comp settlement for a herniated disc and how to protect legal rights.
We frequently take cases that involve spinal injuries. Lifting heavy objects can result in a ruptured disc. Sometimes twisting and turning while performing a physical activity will also cause this problem. Even a traumatic event such as a fall or a blow can result in a ruptured disc.
Spinal injuries can be devastating if they result in lifetime medical bills and permanent work restrictions. If an injured employee has always done physical work, the transition to a sit-down job can be nearly impossible.
Understanding legal rights is the key to getting a fair workers' comp settlement for a herniated disc from the insurance company. All reasonable and necessary medical treatment should be paid without copays or deductibles. Wage loss benefits equal to 80% of after-tax average weekly wage should also be paid. Below is some more helpful information.
Work injury defined
A herniated or ruptured disc refers to a problem with one of the cushions between the individual vertebrae that stack up making your spine. It occurs when some of the material in the disc extrudes out. Nerves can be irritated resulting in pain, numbness, and weakness in the lower or upper extremities. Other names include disc protrusion, disc extrusion, ruptured disc, slipped disc. Pain radiating from a pinched nerve is called radiculopathy.
MRIs show at which level a ruptured disc is present. Common levels for the lumbar spine include L5-S1, L4-L5, L3-L4. Common levels for the cervical spine include C4-C5, C5-C6, C6-C7. EMG testing is used to look for nerve problems.
Medical treatment includes physical therapy, prescription medication, spinal injections, burning nerves, and surgery. Common procedures include laminectomy, discectomy, and spinal fusion. Some disabled employees never return to work because of chronic pain.
Why do insurance companies fight these claims?
Insurance companies know how much a workers' comp settlement for a herniated disc might end up costing them. A common tactic is using the independent medical examination (IME) to dispute payment of medical and/or wage loss. These insurance company doctors are not "independent" and frequently get paid on hundreds of cases. Some of these doctors make careers out of testifying against disabled employees.
Watch out for insurance company disputes based upon degenerative disc disease or arthritis. It is common for the insurance company to blame the normal aging process while ignoring the facts. We recommend speaking with a lawyer if a claim has been denied. Medical evidence from a personal doctor can be used to establish additional need for medical treatment and time off.
What is the average workers' comp settlement for herniated disc
There isn't a specified average workers' comp settlement for a herniated disc in Michigan. Statistics published by the Workers' Disability Compensation Agency show the average payout amount for a work-related injury in Michigan was $62,315.56 in 2022.
The average amount paid depends upon multiple factors. Insurance companies look at future medical needs and how long a person will remain disabled. Watch out for low-ball offers based upon bogus IME reports or perceived financial distress.
Michigan law allows disabled employees to trade workman's comp benefits for a lump sum cash payment. This money is tax free and can be used for any purpose. Many of our clients want to finish medical treatment and vocational retraining on their own terms. Getting out from under the insurance company is an attractive option.
A lawyer will be able to maximize a workers' comp settlement for herniated disc by developing medical and vocational evidence. Hiring a lawyer also shows that a disabled employee is serious about protecting his or her legal rights.
Injured at work? Contact our work injury attorneys for a free consultation.
To speak with an experienced work injury attorney about a workers' comp settlement for a herniated disc, call us now, or fill out our contact form for a free consultation. There is absolutely no cost or obligation. We're here for you.
Our attorneys have been exclusively helping injured workers in Michigan for more than 35 years. Our attorneys can help you better understand Michigan workers' comp laws and what happens after someone has been hurt on the job. To see what our own clients have to say about the caring, compassion, and communication they received from us, you can read in their own words about their experience here on our testimonials page from clients we have helped.
Michigan Workers Comp Lawyers never charges a fee to evaluate a potential case. Our law firm has represented injured and disabled workers exclusively for more than 35 years. Call (844) 316-8033 for a free consultation today.
Related information: