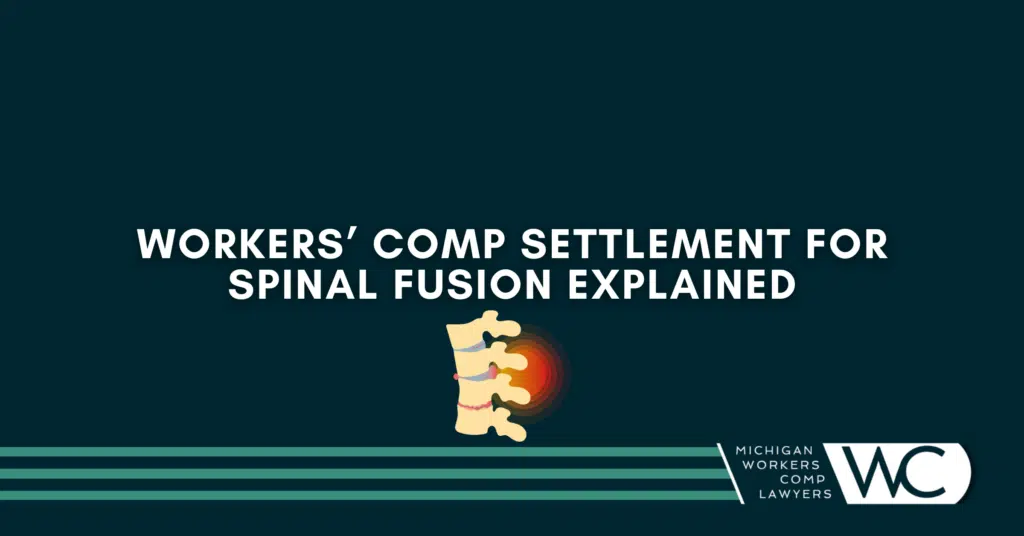 Watch out for lowball settlement offers when you have received a back injury that requires fusion surgery in Michigan.
We frequently get telephone calls and emails from disabled employees who want to know about a workers' comp settlement for spinal fusion. Michigan law allows people to trade workers' comp benefits for a lump sum cash payment. Settlement is an attractive option for people who want to move on with their lives. Settlement money is not taxed and can be used for medical treatment, vocational rehabilitation, paying off debt, starting a business, or even retirement.
Some of the more difficult workers' comp cases involve spinal fusion because it can end careers. If an employee has always done heavy labor, the transition to a sedentary job can be difficult. Even activities of daily living can be much harder when someone has problems standing, walking, and lifting. A workers' comp settlement for spinal fusion can make things easier.
Common injuries leading to a spinal fusion surgery include herniated disc, spondylolisthesis, and other deformities that need to be fixed. Individuals with a spinal injury can experience symptoms of chronic pain and weakness.
A spinal fusion is a surgical procedure that permanently connects two or more vertebrae. Metal plates, screws, and rods may be used to hold the vertebrae together, so they can heal into one solid unit. Unfortunately, while a spinal fusion can reduce symptoms, it never fully eliminates back or neck pain. Immobilization of the spine can also place additional stress on the vertebrae above and below the fused portion causing degeneration.
Many of our clients have permanent work restrictions after a spinal fusion and need lifetime medical care. They have trouble with standing, walking, and lifting items. All these activities impact ability to do work activities and put their jobs in danger.
Michigan workers' comp guarantees medical treatment and lost wages for on-the-job injuries. The amount paid for a workers' comp settlement for spinal fusion depends upon several factors. Insurance companies look at future medical needs and how long a person will be disabled from employment. Age, education, and occupation play critical roles.
Watch out for insurance companies who make a lowball workers' comp settlement for a spinal fusion based upon their medical and vocational experts. It is common for insurance companies to use the independent medical examination (IME) to say an employee has fully recovered from spinal fusion or is just suffering from age-related degeneration. Vocational counselors are hired to do labor market surveys showing other potential jobs that might be available. These biased medical and vocational reports are then used as a basis to make a lowball settlement offer.
What is the average workers' comp settlement for a spinal fusion?
In Michigan, there isn't a specified average workers' comp settlement amount for a spinal fusion. Statistics published by the Michigan WDCA show the average settlement amount for a work injury was $62,315.56 in 2022. Evidence of permanent restrictions and lifetime medical needs can get you more than the average. Watch out for lowball settlement offers for spinal injuries.
Our experience shows the best way to get a fair workers' comp settlement for a spinal fusion is through preparation. Find a doctor who will listen to complaints and ask if they support your workers' comp claim. Individuals on workers' comp have the right to select their own doctor after 28 days from the start of medical care. Work restrictions and medical treatment should be determined by your doctor. Do not let the insurance company get away with stopping workers' comp benefits prematurely.
Injured on the job in Michigan? Call now, our attorneys can help!
If you suffered a spine injury on the job in Michigan and need a spinal fusion and have questions about your a workers' comp settlement, call now to speak with an experienced attorney, or fill out our contact form for a free consultation. There is absolutely no cost or obligation. We're here for you.
Our attorneys have been exclusively helping injured workers in Michigan for more than 35 years. Our attorneys can help you better understand Michigan laws and what happens after someone has been hurt on the job. To see what our own clients have to say about the caring, compassion, and communication they received from us, you can read in their own words about their experience here on our testimonials page from clients we have helped.
Michigan Workers Comp Lawyers never charges a fee to evaluate a potential case. Our law firm has represented injured and disabled workers exclusively for more than 35 years. Call (844) 316-8033 for a free consultation today.
Related information:
Independent Medical Examination For Workers' Compensation: What You Need To Know