Michigan lawyer explains what to do when workers' comp won't pay benefits and provides other sources of financial relief.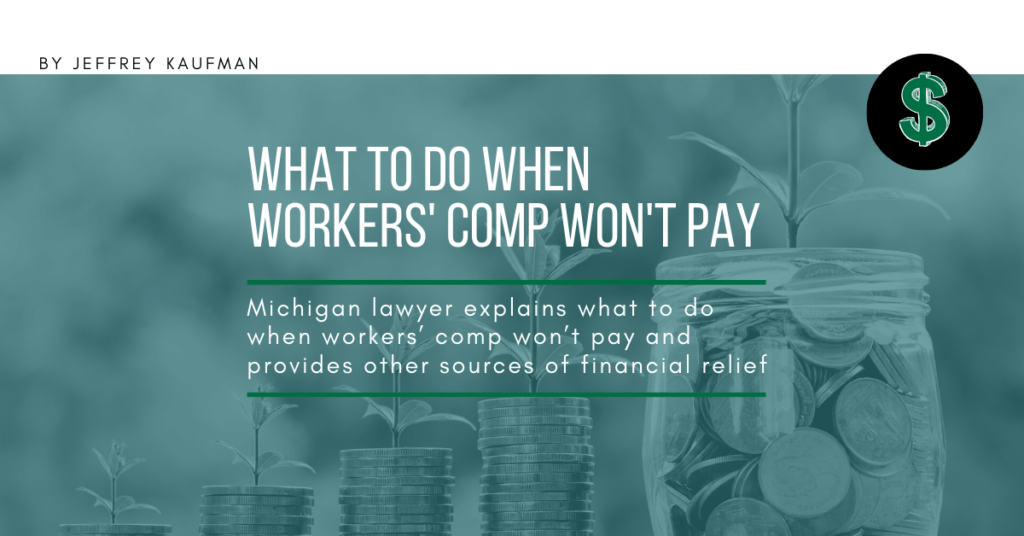 A common question is what to do when workers' comp won't pay? Michigan law requires employers to cover medical bills and lost wages for employees hurt on-the-job. Unfortunately, some employers refuse to follow the rules and will obstruct these claims. Insurance companies are also notorious for disputing payment of benefits that should normally be covered without any problem.
Most Important Thing To Do When Workers' Comp Won't Pay Benefits
The most obvious thing when worker's comp won't pay benefits is is hire a workers' comp lawyer and file an Application for Mediation or Hearing starting a lawsuit. A magistrate will decide if workers' comp benefits should be paid.
Many of these workers' comp cases eventually settle for a lump sum cash payment. Regrettably, this process can take months and disabled employees suffer during this long process. Here are some resources that our clients use to get over the financial hump until a workers' comp settlement becomes available.
Medical Bills
Access to medical care is very important for employees suffering from a workplace accident. Workers' comp is supposed to pay all reasonable and necessary medical treatment. When a workers' comp claim is disputed, it is possible to submit unpaid medical bills to private health insurance. This ensures medical treatment continues and the workers' comp claim proceeds. Employees who later receive a settlement or award will need to reimburse the private health insurance company for money it paid out. An experienced workers' comp lawyer will be able to reduce the amount of payback to ensure maximum recovery for the injured employee. Medicaid and Medicare will also cover disputed medical bills and should not be overlooked as a resource.
Unemployment Benefits
Employees hurt on-the-job can also seek unemployment benefits when laid off and not receiving lost wages under workers' comp. The idea is that an employee would be working under restrictions but for their employer not having a job available for them. The employer might get a credit against any unemployment benefits paid but it provides an immediate influx of cash.
Long-Term Disability
Many disabled employees are also covered under a long-term disability (LTD) plan that pays 60% of their lost wages. LTD is easier to get because it is unnecessary to prove that disability was caused by employment. This is not a substitute for workers' comp and payment is usually conditioned upon reimbursement. A skilled workers' comp lawyer will be able to reduce the amount of money that needs to be paid back.
Social Security Disability
Disabled employees can receive both workers' comp and Social Security disability benefits (SSDI) at the same time. There will be an SSDI offset if the combined benefit amount exceeds a specific amount unique to each individual. Applying for SSDI is what to do when workers' comp won't pay benefits. It is also possible to avoid any SSDI offset by settlement of the workers' comp claim. We recommend speaking with an experienced workers' comp lawyer to make sure payment is correct.
Michigan Workers Comp Lawyers never charges a fee to evaluate a potential case. Our law firm has represented injured and disabled workers exclusively for more than 35 years. Call (844) 316-8033 for a free consultation today.
Related information:
I Was Injured At Work, What Are My Rights?