Common reasons why workers' comp checks stopped and how to protect legal rights.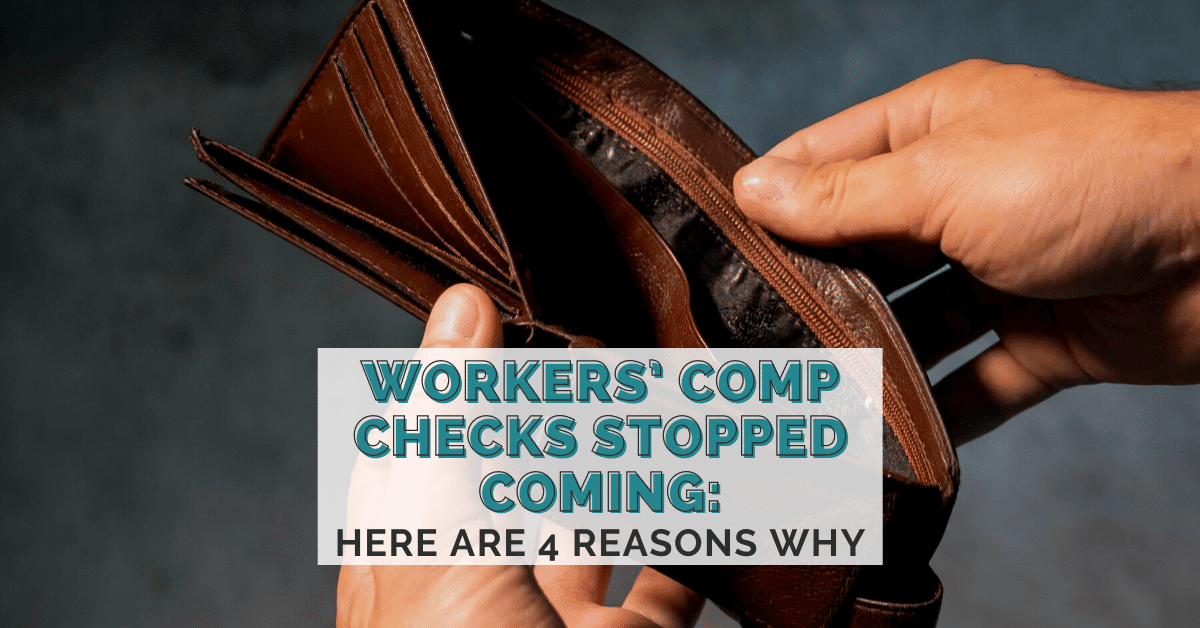 Most of our clients live paycheck-to-paycheck. It comes as a great surprise when they learn that workman's compensation only pays 80% of their after-tax average weekly wage. This works out to be about 60% of their gross pay. Supporting a family on reduced income is not an easy task. Payment only begins after 7 consecutive days of disability. Checks are not considered late until they are 30 days past due. Here are 4 reasons why workers' comp checks are stopped.
1. Weekly workers' comp checks stopped automatically by a computer
Has your Michigan workers' comp checks stopped coming? Here is a dirty secret insurance companies do not talk about. Most workers' comp claims have automatic end dates regardless of what the medical or facts show. The computer just stops issuing weekly checks to individuals after a certain arbitrary date. It is up to the claim representative to manually approve additional benefits. We have seen lots of people fall through the cracks and not get paid for weeks or even months. Calls to the insurance company go unanswered because they are simply too busy to help. This is also why checks suddenly come on different days of the week.
2. No current disability slip has been provided to the insurance company
Insurance companies look for reasons to get Michigan workers' comp checks stopped. They do not give people the benefit of the doubt and will cut-off weekly checks if a disability slip has not been provided. We tell our clients to be vigilant when it comes to medical records. Do not rely upon the doctor's office to provide appropriate documentation. Send the disability slip to the insurance company directly so weekly benefits are not interrupted.
3. Workers' comp checks are stopped based upon independent medical examination (IME)
Insurance companies are allowed to force people to be examined by doctors of their own choosing. These so-called "independent" medical examinations are with doctors who are handpicked by the insurance company. Many of these physicians make careers out of testifying against disabled employees. These biased medical opinions are used to stop payment of workplace injury insurance benefits. We have seen employees who have no clue what even happened. It will be up to the disabled employee to file an Application for Mediation or Hearing and challenge this decision.
4. Insurance company thinks a person can work somewhere else
Vocational assessments are another dirty trick used by insurance companies to guarantee workers' comp checks are stopped. This is when a vocational counselor uses a transferable skills analysis and labor market survey to say jobs are available. It does not matter whether a disabled employee can even get the job. We see people have their weekly checks slashed by hundreds of dollars each week based upon "phantom wages." It is important to have an experienced attorney involved should this happen.
Injured at work? Contact our lawyers for a free consultation
To speak with an experienced work injury attorney about your workplace injury in Michigan, call us now, or fill out our contact form for a free consultation. There is absolutely no cost or obligation. We're here for you.
Our attorneys have been exclusively helping injured workers in Michigan for more than 35 years. Our attorneys can help you better understand Michigan workers comp laws and what happens after someone has been hurt on the job. To see what our own clients have to say about the caring, compassion, and communication they received from us, you can read in their own words about their experience here on our testimonials page from clients we have helped.
Michigan Workers Comp Lawyers never charges a fee to evaluate a potential case. Our law firm has represented injured and disabled workers exclusively for more than 35 years. Call (844) 201-9497 for a free consultation today.
Related information:
5 Reasons A Workers' Comp Claim Is Denied: Here Is What To Know