Detroit Workers Comp Lawyers
Our workers comp lawyers have been protecting injured workers like you in metro Detroit and Wayne County for more than 35 years.
If you've been injured at work, call one of our lawyers Toll-free (855) 221-2667. There is no cost or obligation. We can help you obtain your workers comp benefits; and we will not let your insurance company or employer take advantage of you.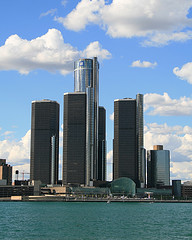 Michigan Workers Comp Lawyers – Detroit office address:
645 Griswold St
Suite 1308
Detroit, MI 48226
Wayne County
Phone
Local: (313) 925-3169
Toll-free: (855) 221-2667
Detroit Workers Comp Resources
Our lawyers have put together some local information below to help injured workers:
State of Michigan Workers' Compensation Agency
Includes calculators, weekly wage charts and other government resources to help Michigan workers.
Michigan Workers' comp cases are heard at local agency locations, not at district courts. The county of injury determines the hearing site location. For injuries that occurred in Wayne County the address is:
Detroit Hearing Site
Cadillac Place
3026 West Grand Boulevard
Suite 3-700
Detroit, MI 48202
(313) 456-3650
You can use this map to get addresses and telephone numbers for any county in Michigan:
MI Workers Compensation Clickable Map
Medical Facilities:
Most injured workers are sent to Concentra for medical treatment during the first 28 days. Here are several locations in the city of Detroit area:
Concentra – Downtown Detroit
2151 E Jefferson Ave
Detroit, MI 48207
Phone: (313) 259-7990
Fax: (313) 259-7294
After hours: (313) 259-7990
Urgent Care Hours
(Mon. – Fri.) 7:30 am – 11pm
(Sat.) 8am – 6pm
Concentra – Allen Park/Downriver
17500 Federal Dr
Ste. 750
Allen Park, MI 48101
Phone: (313) 982-1370
Fax: (313) 982-1376
After hours: (734) 425-4600
Urgent Care Hours
(Mon. – Fri.) 8am – 5pm
Concentra – I-96
28196 Schoolcraft Rd
Livonia, MI 48150
Phone: (734) 425-4600
Fax: (734) 425-1185
After hours: (734) 425-4600
Urgent Care Hours
(Mon. – Fri.) 7am – 11pm
(Weekends) 10am – 6pm
Detroit Hospitals
Henry Ford Hospital
2799 West Grand Boulevard
Detroit, MI 48202
(313) 916-2600
henryfordhealth.org
Children's Hospital of Michigan
3901 Beaubien Street
Detroit, MI 48201
(313) 745-5437
childrensdmc.org
Harper University Hospital
3990 John R Street
Detroit, MI 48201
(313) 745-8040
harperhutzel.org
Detroit Receiving Hospital and University Health Center
4201 Saint Antoine Street
Detroit, MI 48201
(313) 745-3251
drhuhc.org
St John Detroit Riverview Hospital
7733 East Jefferson Avenue
Detroit, MI 48214
(313) 499-4000
stjohn.org
St John Hospital & Medical Center
22101 Moross Road
Detroit, MI 48236
(313) 343-4000
www.stjohnprovidence.org/stjohnhospital/
Detroit Workers Comp Settlements
The following testimonial is from a satisfied local Detroit client about their workmans comp case:
"I needed a workers compensation attorney because of my conditions on the job. I was a CRT Operator, and by working on the computer all day, I developed carpel tunnel and trigger finger, and neck and shoulder problems that caused me to have surgery. This made it impossible to use my hands. I called Mr. Berman to see what I could do. He took my case. It took less than a year to resolve it and he enabled me to get my workers compensation benefits. He was very patient. He gave me a long consultation and assured me he could help me. I took chance because I trusted him. Mr. Berman was very cooperative. He was also very thorough with calling me back and explaining the details and timing of my case. And if he wasn't in town because of another client, he would always have someone return my call right away. I was very pleased with him. So pleased in fact, that I referred a whole lot of workers to Alex Berman. Two of their cases have already been resolved."
– Pearl Anderson, Detroit, Michigan
To read more stories of real injured workers from your area, visit the Michigan Work Comp Client Testimonials page.
Feel free to call (855) 221-2667 (Toll-free) to speak with one of our workers comp lawyers now. We're here to answer all of your questions and help you recover. There's absolutely no charge or obligation. You can also fill out our free consultation form.