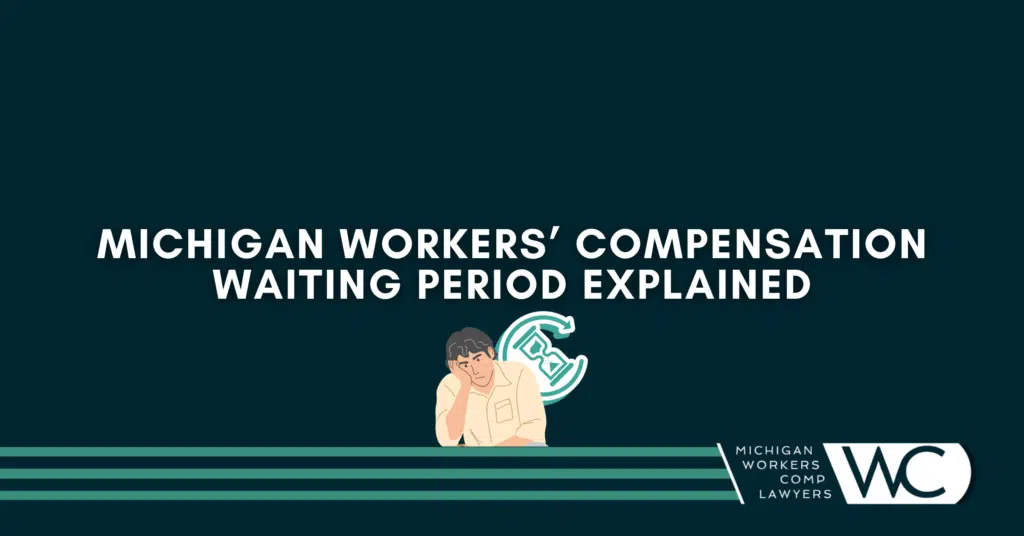 Learn why the Michigan workers' compensation waiting period can take a long time and how to speed up the settlement process.
How long is the Michigan workers' compensation waiting period for a claim to settle?
In Michigan, the waiting period for a workers' comp claim to settle can be over 1 year as the data published by the WDCA, shows over 50% of cases are still pending after 12 months. This is bad news for people who are suffering after an on-the-job injury and need compensation for lost wages and medical treatment.
We understand how difficult it can be with no medical treatment or lost wages. There is no formal waiting period. Insurance companies delay hoping you run into financial difficulties and settle cheaply. Our experience shows that many cases can be resolved much faster than average. Here is some information about types of hearings and how to speed up settlement.
How do I speed up the workers' compensation settlement?
Pre-trial: You should receive notice of pre-trial about 45 days after you file a case. The magistrate assigned will take no action other than setting a new hearing date approximately 60 days later. You will not need to attend if represented. To help speed up the Michigan workers' compensation waiting period make sure your lawyer knows about all medical providers so these records can be subpoenaed early.
Control date: A control date is a type of hearing where both sides appear before the magistrate. It is used to ensure the case is moving toward resolution. Medical and vocational evidence may also be exchanged. Control dates happen every 60 days and several are required before a magistrate will set a trial date. The number of control dates that are necessary will depend upon scheduling and legal issues. You can get the case moving faster if you provide updated medical and vocational information to your lawyer. Make sure they know about any changes to work restrictions and employment.
Facilitation: Most cases are required to go through facilitation. This is an informal hearing where both sides present arguments to a neutral magistrate who will attempt to settle the case. Neither party must accept the amount suggested, but it helps bring each side closer together. The possibility of losing at trial is a strong motivator to negotiate for both sides and most cases settle at facilitation. Facilitation can make the Michigan workers' compensation waiting period longer as defense attorneys may delay the process because they are billing for every court appearance. Ask the magistrate to order early facilitation.
Trial: The magistrate will hear evidence and decide the facts and law. Trial can last anywhere from a few hours to a few days. The magistrate will issue a written opinion in 30 or more days. Most cases are heard and decided based upon how long they have been pending in the system. If your wage loss benefits have been terminated within the last 60 days, then then your Michigan workers' compensation waiting period can be drastically reduced as you can ask for an immediate trial and skip the line.
Redemption: You can trade potential workers' compensation benefits for a lump sum cash payment. All settlements must be approved by a magistrate at a redemption hearing and there is a 15-day appeal period. A determination will be made whether settlement is appropriate based upon facts and medical presented. It is possible that the Michigan workers' compensation waiting period can be shortened if the 15-day appeal period is waived, and the check will be mailed immediately.
Appeal: If you are successful with your case, the employer or its insurance company will likely appeal this decision. You should be paid 70% of your weekly benefits and given medical care during this time. Past due benefits and medical bills will not be paid until you win on appeal. The appeal process has different levels, and it can take years to get through them all. Avoid a long Michigan workers' compensation waiting period on appeal by settling your case after a successful trial.
Injured on the job in Michigan? Call now, our attorneys can help!
The Michigan workers' compensation waiting period for a claim to settle can be long but it doesn't have to be. If you suffered an injury on the job and have questions on how to speed up the settlement process, call now to speak with an experienced attorney, or fill out our contact form for a free consultation. There is absolutely no cost or obligation. We're here for you.
Our attorneys have been exclusively helping injured workers in Michigan for more than 35 years. Our attorneys can help you better understand Michigan laws and what happens after someone has been hurt on the job. To see what our own clients have to say about the caring, compassion, and communication they received from us, you can read in their own words about their experience here on our testimonials page from clients we have helped.
Michigan Workers Comp Lawyers never charges a fee to evaluate a potential case. Our law firm has represented injured and disabled workers exclusively for more than 35 years. Call (844) 316-8033 for a free consultation today.
Related information:
Independent Medical Examination For Workers' Compensation: What You Need To Know