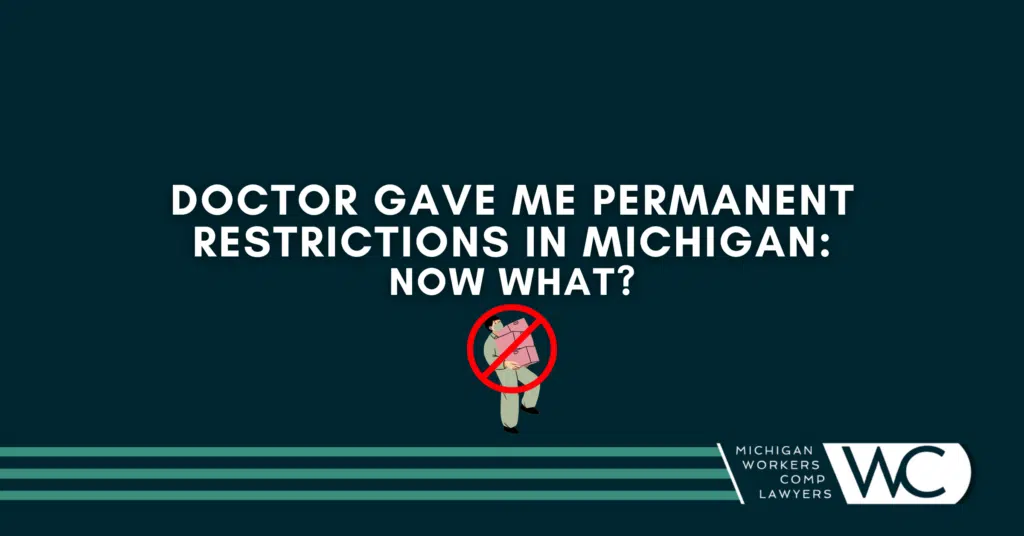 Michigan workers' comp lawyer discusses what happens after a doctor gave you permanent restrictions.
Here is a common question that we get asked frequently: My doctor gave me permanent restrictions, now what happens? This is not always easy to answer because every situation is different.
Our goal as workers' comp lawyers is to ensure people hurt on-the-job get the best possible result. This could mean helping them get work under limited conditions, vocational rehabilitation benefits so they can find a new job, or obtain a lump sum cash settlement.
Common Options If A Doctor Gave You Permanent Work Restrictions
We think having a plan is critical whenever you are on workers' comp in Michigan. Here are the most common options if a doctor gave you permanent restrictions.
Light duty under workers' comp
Michigan law gives a big incentive to companies who rehire their disabled employees. It allows them to discontinue payment of wage loss benefits under workers' comp. This is called light duty or reasonable employment. It is defined as work within the employee's capacity to perform that poses no clear and proximate threat to health and safety. But it is not limited to jobs within qualifications and training, so any job is fair game. The location of the job must also be a reasonable distance from the employee's home.
Failure to accept a light duty job offer can result in a forfeiture of wages. Bad employers are notorious for offering demeaning jobs that are not value added. The hope is that a person quits and loses out on any wage loss benefits.
Be careful of bad employers if a doctor gave you permanent restrictions. Bad employers will push boundaries and try to get employees to perform activities beyond their restrictions. We have represented many people who have a dispute with their employer about a light duty job offer and what is required.
Vocational rehabilitation under workers' comp
Vocational rehabilitation is an important workers' comp benefit when you have limited working conditions. It is supposed to help a disabled employee get back to gainful employment. It can be used to pay for a maximum of two years education and/or retraining.
Our experience shows that insurance companies abuse the system. Watch out for vocational counselors hired by insurance companies who do not have best interests at heart. They put disabled employees in any possible job regardless of whether it is a good fit. Insurance companies also use "phantom wages" from jobs that are not truly available to cut the weekly comp rate. We strongly recommend hiring a lawyer to help navigate the vocational rehabilitation process.
Settlement under workers' comp
Disabled employees can trade wage loss, medical, and vocational rehabilitation for a lump sum cash payment. This is called a settlement and it forever ends a person's right to workers' comp.
If a doctor gave you permanent restrictions, you can always negotiate a settlement that helps you move on with your life. Settlement money can be used for job search efforts, vocational rehabilitation, starting a business, and even retirement. Consult an experienced workers' comp lawyer to obtain a fair settlement amount and use this money to get back on your feet.
Injured on the job in Michigan? Call our workers' comp attorneys now!
If you suffered an injury on the job in Michigan and the doctor gave you permanent work restrictions and have questions about your workers' comp claim, call now to speak with an experienced attorney, or fill out our contact form for a free consultation. There is absolutely no cost or obligation. We're here for you.
Our attorneys have been exclusively helping injured workers in Michigan for more than 35 years. Our attorneys can help you better understand Michigan laws and what happens after someone has been hurt on the job. To see what our own clients have to say about the caring, compassion, and communication they received from us, you can read in their own words about their experience here on our testimonials page from clients we have helped.
Michigan Workers Comp Lawyers never charges a fee to evaluate a potential case. Our law firm has represented injured and disabled workers exclusively for more than 35 years. Call (844) 316-8033 for a free consultation today.
Related information:
Independent Medical Examination For Workers' Compensation: What You Need To Know