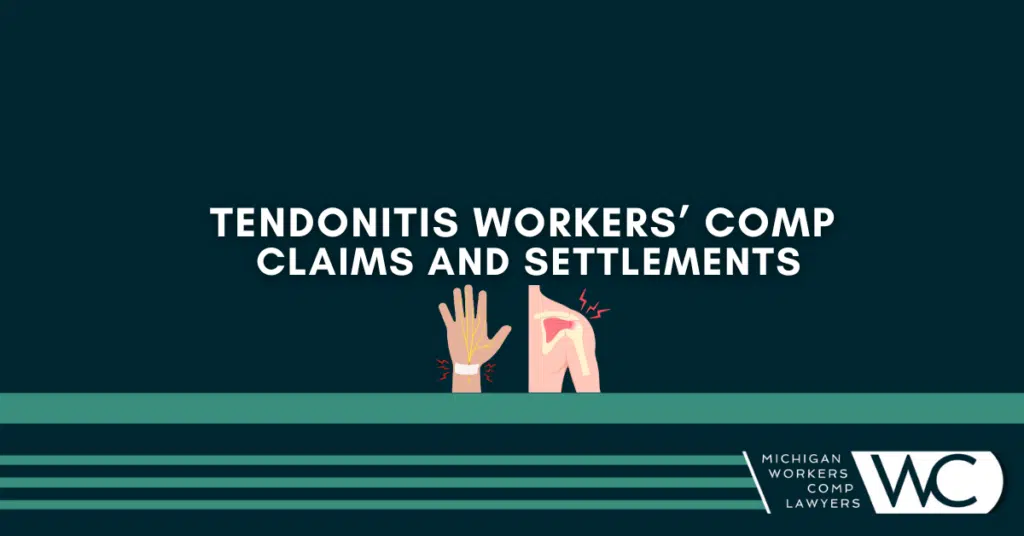 Michigan lawyer discusses a tendonitis workers comp claims, settlements and how to protect your legal rights under workers' comp law.
We have experience with all types of work-related medical conditions. One of the most common diagnosis that we see is tendonitis. This is when a tendon becomes inflamed, irritated, or suffers microscopic tears. It usually occurs from overuse or overload of a body part. Symptoms include pain and swelling. Common treatment for tendonitis includes rest, ice, medication, using a splint/brace, and rarely surgery. It is common to develop tendonitis in your shoulder (epicondylitis), elbow, wrist, knee, or ankle. Here is some information about Michigan tendonitis workers' comp claims and settlements.
Is tendonitis covered under workers' comp in Michigan?
In Michigan, tendonitis is covered under workers' comp. All medical treatment should be covered without any copayments or deductibles being owed. Lost wages equal to 80% of a person's after-tax average weekly wage should also be paid. Benefits continue for as long as needed.
Michigan law allows disabled workers to trade workers' comp benefits for a lump sum cash payment. This amount of money is tax free and can be used for any purpose. Many of our clients use settlement money for medical treatment or vocational retraining. Some find a new job, start a business, or simply retire. It is a good option when a person can no longer perform the requirements of their job. Here are some issues to consider when thinking about a settlement:
Medical benefits
All reasonable and necessary medical treatment should be covered under workers' comp. There are no co-payments or deductibles owed. Employees are permitted to choose their own doctor after 28 days from the start of medical care. We tell our clients to find the best doctor available and insist workers' comp pays the bills. It is a good idea to get an idea about future medical needs because this can be used to increase the value of any tendonitis workers' comp settlement in Michigan. Watch out for the independent medical examination (IME) because these insurance company doctors are used to cut-off medical treatment.
Lost wages
Employees who are unable to perform their jobs are entitled to payment of lost wages. The amount should equal 80% of their after-tax average weekly wage. Overtime, discontinued fringe benefits, and second jobs must be included. Watch out for employers who force light duty work that is beyond restrictions. Insurance companies also try to use "wage earning capacity" to reduce or eliminate these payments. An experienced workers' comp lawyer can ensure the correct amount is paid and this could make all the difference when negotiating a fair settlement.
Insurance companies
Watch out for insurance companies who dispute these claims. They use so called "independent" doctors to say a person is fine and can work. It does not matter what their own doctor says. Biased medical reports should be challenged with other evidence. It will be up to a magistrate to determine whether medical and/or wage loss benefits should be paid.
Tendonitis workers' comp settlement
In Michigan, most tendonitis workers' comp claims are paid voluntarily. The insurance company covers medical bills and lost wages. Employees get better and return to work. Employees who find benefits disputed should talk with a workers' comp attorney. It is possible to get a lump sum cash payment through settlement.
The decision to settle a workers' comp claim is not easy. Careful thought should be given to medical needs and return to work ability. We recommend coming up with a plan for the future and trying to get enough money to make it viable. Unfortunately, insurance companies think of settlement as a business decision. They don't want to pay anything but the bare minimum. This means proving entitlement to future medical treatment and wage loss benefits is critical to getting a fair settlement. Contact an experienced Michigan workers' comp lawyer to understand legal rights and get a fair settlement.
Need help with your claim? Our attorneys can help!
If you suffered tendonitis while at work in Michigan and need help with your workers' comp claim and have questions about settlement options, call now speak with an experienced attorney, or fill out our contact form for a free consultation. There is absolutely no cost or obligation. We're here for you.
Our attorneys have been exclusively helping injured workers in Michigan for more than 35 years. Our attorneys can help you better understand Michigan workers' comp laws and what happens after someone has been hurt on the job. To see what our own clients have to say about the caring, compassion, and communication they received from us, you can read in their own words about their experience here on our testimonials page from clients we have helped.
Michigan Workers Comp Lawyers never charges a fee to evaluate a potential case. Our law firm has represented injured and disabled workers exclusively for more than 35 years. Call (844) 316-8033 for a free consultation today.
Related information:
Repetitive Strain Injury And Workers' Compensation Claims Explained